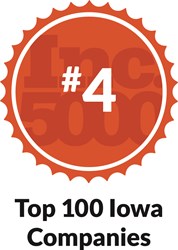 I am especially proud of the ranking we have received locally, as it proves our dedication to the growth of the business communities we serve throughout the Midwest.
Des Moines, Iowa (PRWEB) August 23, 2013
Inc. magazine today ranked IP Pathways NO. 4 in Iowa and NO. 1287 nationally on its seventh annual Inc. 500|5000, an exclusive ranking of the nation's fastest-growing private companies. The list represents the most comprehensive look at the most important segment of the economy—America's independent entrepreneurs. Fuhu tops this year's list. IP Pathways joins LivingSocial, Edible Arrangements, CDW and Lifelock, among other prominent brands featured on this year's list.
Joe Shields, President of IP Pathways stated, "This ranking validates all of the hard work and commitment to our customers and organization that is demonstrated by every single member of the IP Pathways team. I am especially proud of the ranking we have received locally, as it proves our dedication to the growth of the business communities we serve throughout the Midwest. We are thankful for the customers that have trusted and formed partnerships with IP Pathways, enabling us to experience the growth and success we had since opening our doors in 2007."
Wade Brower, Co-Founder & EVP adds, "We are thrilled and thankful. When we founded the company in 2007, Joe and I had no idea we would be so well received. I personally feel very lucky to part of something so fun and special. We are amazed everyday by the work of our teammates and trust placed in us by our customers and partners. Thank you so much to our customers, partners and team members."
In a stagnant economic environment, median growth rate of 2013 Inc. 500|5000 companies is an impressive 142 percent. The companies on this year's list report having created over 520,000 jobs in the past three years, and aggregate revenue among the honorees reached $241 billion.
Complete results of the Inc. 5000, including company profiles and an interactive database that can be sorted by industry, region, and other criteria, can be found at http://www.inc.com/5000.
"Not all the companies in the Inc. 500 | 5000 are in glamorous industries, but in their fields they are as famous as household name companies simply by virtue of being great at what they do. They are the hidden champions of job growth and innovation, the real muscle of the American economy," says Inc. Editor Eric Schurenberg.
Contact
Please contact Wade Brower, Co-Founder and EVP at wbrower(at)ippathways(dot)com or (816) 423-8049.
About IP Pathways
Founded in 2007, IP Pathways, Leading the Data Center Revolution®, provides solutions that help customers modernize their data center infrastructures through virtualization; embrace mobility by delivering desktops, applications and data to any device, anywhere and at any time; optimize Microsoft applications such as Microsoft Exchange and Lync; protect their data and implement business continuity strategies. The company's goal is to have happy customers, happy manufacturing partners and happy employees. IP Pathways' strategy is to architect and implement private cloud solutions that allow customers to leverage their existing IT infrastructure investments while embracing next generation virtualized data center technologies.
IP Pathways lives in the data center and specializes in the following areas of the IT environment: Data Storage, Server & Desktop Virtualization, Wired and Wireless Networking, Microsoft, Data Protection and Business Continuity of IT Systems.
IP Pathways represents leading Tier 1 manufacturers of IT hardware and software such as VMware, NetApp and Cisco, focuses on FlexPod™ for VMware cloud infrastructures and is a leading exert in VMware server and desktop virtualization solutions.
These are the core values that IP Pathways lives each day:
1. Do whatever it takes for the customer
2. Be an engineering driven organization
3. Represent and associate with only best-in-breed technology hardware & software solutions
4. Be a leader in technology thought and innovation
5. Become the leading technical expert in whatever we do
6. Embrace face-to-face communication with our customers, co-workers and vendors
7. Be creative and open-minded
8. Be passionate and determined
9. Get in over your head and love every minute of it
10. Build a positive team and family spirit
To learn more about IP Pathways, visit http://www.ippathways.com.
Methodology
The 2013 Inc. 500|5000 is ranked according to percentage revenue growth when comparing 2009 to 2012. To qualify, companies must have been founded and generating revenue by March 31, 2009. They had to be U.S.-based, privately held, for profit, and independent—not subsidiaries or divisions of other companies—as of December 31, 2012. (Since then, a number of companies on the list have gone public or been acquired.) The minimum revenue required for 2009 is $100,000; the minimum for 2012 is $2 million. As always, Inc. reserves the right to decline applicants for subjective reasons. Companies on the Inc. 500 are featured in Inc.'s September issue. They represent the top tier of the Inc. 5000, which can be found at http://www.inc.com/500.
About Inc.
Founded in 1979 and acquired in 2005 by Mansueto Ventures, Inc. is the only major brand dedicated exclusively to owners and managers of growing private companies, with the aim to deliver real solutions for today's innovative company builders. Total monthly audience reach for the brand has grown significantly from 2,000,000 in 2010 to over 6,000,000 today. For more information, visit http://www.inc.com.
About the Inc. 500|5000 Conference
Each year, Inc. and Inc.com celebrate the remarkable achievements of today's entrepreneurial superstars—the privately held small businesses that drive our economy. The Inc. 500|5000 Conference & Awards Ceremony brings together members of the Inc. community, both a new class of Inc. 500|5000 honorees and the list's alumni, for three days of powerful networking, inspired learning, and momentous celebration. Please join us October 10–12, 2013, at the Gaylord National Resort & Convention Center in Washington, DC. For more information about the 2013 Inc. 500|5000 Conference & Awards Ceremony and to register, visit http://www.inc500conference.com or call 866-901-3205.