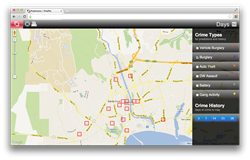 'PredPol technology gives officers the best chance to be in the right place, at the right time, to stop crime before it occurs,' Alhambra Chief Mark Yokoyama
Santa Cruz, California (PRWEB) August 23, 2013
Police agencies implementing PredPol's predictive policing program have seen noticeable drops in crime over the last year. The program, which used advanced mathematics and anthropological research to predict crime and produce simple targeted locations for law enforcement to patrol, has been implemented throughout the United States and recently in the United Kingdom.
A recent three-month pilot in North Kent (England) saw levels of street violence fall by 6 percent in areas where PredPol was being used. In Alhambra, situated in the western San Gabriel Valley region of Los Angeles County the rate of residential burglary and other major crimes significantly dropped six months after it launched the project in January of this year. This is after a trend in rising crime rates in that region over the last few years. Even more striking results were seen in Santa Cruz and Los Angeles with double-digit crime reductions experienced after implementation of the program.
"PredPol technology gives officers the best chance to be in the right place, at the right time, to stop crime before it occurs while at the same time helping to reduce crime, cut costs, and increase accuracy when officers patrol their beats," Alhambra Chief Mark Yokoyama said.
"We understand the challenges faced by city leaders and law enforcement and created this technology with police to help them do more with less," said Dr. Jeff Brantingham, co-founder of PredPol and a criminology expert at UCLA. "Affordable, easy to use technologies allow police who have tight budgets and limited hiring ability to better direct the patrol resources they have."
Without predictive analytics, police are forced to chase yesterday's crime by relying on simple mapping of past crime data. Traditional crime mapping tools are calibrated less frequently, rely more on humans to recognize patterns, and allocate resources based on past crimes rather than predicted future offenses. PredPol does not replace the insights of veteran officers and crime analysts, but delivers an easy-to-use enhancement that lets police do more with their current resources.
This was highlighted in the last week when Norcross, Georgia Police Department implemented PredPol and made multiple arrests on the first day of usage – including catching a burglar in the act. "These areas you may not have thought of," Lt. Bill Grogan of the Norcross Police Department told CBS Atlanta. "Specifically, the success we had the first day it was implemented was exactly one of those [PredPol] locations, where the officers would not have been there. No doubt about it, their words, they would not have been there had it not been for this prediction."
About PredPol
A secure, cloud-based software-as-a-service, PredPol's tool was developed by a team of PhD mathematicians, criminologists, and social scientists at UCLA, Santa Clara University, and UC Irvine in close collaboration with crime analysts and line level officers at the Los Angeles and Santa Cruz Police Departments. Just six months after launch, those first two cities saw crime reductions of 12 percent to 25 percent in burglaries and auto thefts compared to the previous year.
After successful initial deployments in 2011 in Los Angeles and Santa Cruz, PredPol has deployed its groundbreaking technology in dozens of cities around the United States as well as the United Kingdom. PredPol's core technology has grown from success with property crimes to include prediction of drug crime, gang crime, anti-social behavior, and now gun violence.