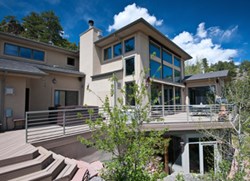 ...cycles are changing and the opportunity is strong to currently look for homes with designated Open Spaces.
(PRWEB) August 22, 2013
As the real estate market slowly begins its ascent once again, buyers are starting to look for more open spaces to enjoy which is quickly paying off for the current owners.
In a May 3, 2013 article by Sanette Tanaka of the WSJ, she found homes built in land-conservation developments sell for 29% more than homes built in traditional rural developments.
That's the conclusion of a Colorado State University study of home prices in conservation developments, where residential real estate is limited and a substantial amount of land, usually 50% to 70%, is set aside as open space. "That could mean wildlife habitats, agricultural lands, important cultural sites, open space for scenic vistas," says Sarah Reed, co-author of the study and associate conservation scientist with the Wildlife Conservation Society.
The problem with this is locating the right home with the Open Space that is best for you and your family as once buyers are fortunate enough to own this type of home, they traditionally don't want to sell for 10-20 years. However, the cycles are changing and the opportunity is strong to currently look for homes with designated Open Spaces.
As proof, Karen Schaefer, Amazon #1 Best Selling Real Estate Author, asks home sellers, home buyers and real estate agents, to consider these three viewpoints when looking for a new home, investment or vacation home with surrounding open space.

"Bloomberg.com reports that the rebounding vacation home market includes scenic mountain, oceanfront or golf communities throughout the country…. Based on the current economic recovery, second home sales have picked up dramatically. Bloomberg sources estimate sales of getaway homes will increase between 600,000 and 650,000 units annually through 2015."
"Researchers compared 2,222 home sales in five counties in Colorado between 1998 to 2011… Based on the analysis, homes in conservation developments sold for 29% more than homes located in conventional residential projects.'' Sanette Tanakah, WSJ
"For a homeowner, this means that the value of their home will be greater just by being in a development with open space," Prof. Sarah Reed.
This is easy to see when homes such as the one at 27638 Misty Road in Golden, Colorado have the best of all worlds with a 700 acre reserve boarding the property, 360 mountain views peace, serenity and you are still only 20 minutes to a big city.
"This type of lifestyle, whether for everyday living or as a second home or vacation home is simply what people are striving toward in the coming years. Needless to say, because of this, it is a sound investment. Now is the time to take advantage of homes that border open space and conservation developments. The home at http://www.27638MistyRoad.com epitomizes open space living for the 'outdoorsy' family looking to 'get away from it all' but be back in it within 20 minutes.
Karen Schaefer is the author of Amazon #1 best seller, 'Love Sells; How to get Every Home Buyer to Fall in Love with YOUR House,' and a trusted authority on the luxury real estate market, the creator of the Luxury Real Estate Training System for RE/MAX Europe and its 12,000 agents, real estate investing, real estate sales, real estate marketing, home staging and curb appeal. She is also the Founder of APSD®, The Association of Property Scene Designers, a home staging and marketing training company in 14 countries along with being the owner of Simple Appeal Home Staging and Design. Ms. Schaefer has been featured in over 25 Major newspapers, blogs, TV Channels and press releases spanning the US, Canadian and European Markets.
Including:
Wall Street Journal
Victoria Times
More.com
Calgary Sun
RIS Media
San Francisco Chronicle
HGTV
…along with many others and has spoken in front of thousands on such topics as marketing homes for sale, massive open house events, selling vacant and distressed properties, effective home staging and curb appeal, investing in real estate and building home staging and real estate businesses.
For a complimentary Open Space Home Experience DVD visit http://www.27638MistyRoad.com