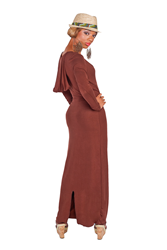 Orlando, FL (PRWEB) August 22, 2013
Like Dresses? Have a network of friends who like dresses? Well, here's an opportunity to earn extra cash for doing something enjoyable. Customers are always referring friends to U ARe! Fashions' online boutique to shop for dresses. The U ARe! Fashions Refer & Earn program offers a cash bonus for each sale made as a result of spreading the word.
Here's how the program works: obtain a personalized code from U ARe! Fashions; share the personalized code with friends; earn a 15% referral bonus on each online sale made using the personalized code. The personalized code entitles the purchaser to free shipping within the Continental U.S. 15% bonus for the referral and free shipping for the purchaser, everybody wins.
The personalized code can be shared with an unlimited number of friends, family members, colleagues, social network groups, etc. The more the code is circulated, the more sales will be made, the more bonus money earned. It really is that simple! Referral bonuses are paid monthly via Chase Quick Pay so personal information is never required. There are no contractual obligations, no gimmicks and no nonsense.
Don't delay in getting started, you can earn a lot of extra cash for holiday shopping. To obtain a personalized code, contact Anissa Rogers via email with "Refer & Earn Program" in the subject line.
The U ARe! Fashions clothing line is currently available for online retail purchasing at http://www.uarefashions.com. Retail buyers interested in wholesale purchasing can view the 2013 Lookbook online at http://www.uarefashions.com. Join the 3000+ who Like us on Facebook.
Contact:
Anissa Rogers
Email: Uarefashions(at)outlook(dot)com
Phone: (407) 580-0883
Website: http://www.uarefashions.com