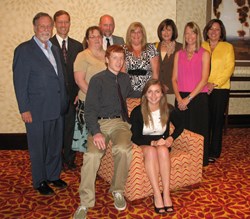 Lancaster, PA (PRWEB) August 22, 2013
The S. Dale High Family Foundation recently presented college scholarship awards to Nathan Cummings of Ephrata, Pa., and Rachel Simmons of Lancaster, Pa. Both students have been awarded $20,000 scholarships, which provide $5,000 per year for four years.
Nathan Cummings is the son of Kevin Cummings, residential maintenance leadperson at High Associates Ltd., who joined High in 1989. Nathan graduated from Ephrata High School where he was a member of the National Honor Society, the Tri-M Music Society, and Jazz Band. He played baseball in grades 9–12 and is active in his church youth group. Nathan is a member of the Board of the Leo Club, which is the Lions School Club. Nathan plans to pursue a degree in Business Administration from Delaware Valley College.
Rachel Simmons is the daughter of Jenni Simmons, corporate benefits administrator with High Company LLC, who joined High in 1988. Rachel graduated from Lampeter-Strasburg High School where she was a member of the National Honor Society, publicist and treasurer for the Student Council, and captain of Varsity Cheerleading. She is active in the community through her involvement with the Water Street Food Drive, the Christmas Eve Project for the Needy, and Highway Trash Clean-up. Rachel is also active in her church youth group. Rachel plans to attend Shippensburg University.
The S. Dale High Family Foundation is a non-profit organization that was established by members of the High Family. The Foundation's overall mission is to give back to the community by providing support to non-profit organizations in communities in which the High® companies do business and assist High co-workers in meeting the costs of college education for their children through The S. Dale High Family Foundation Scholarship Program.