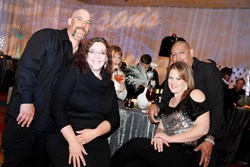 Book Holiday Event Photography Company early to get the very best.
San Antonio, TX (PRWEB) August 22, 2013
Professional Images Photography is now scheduling Holiday Party Photography Service and Holiday Event Photography for company parties and event this coming Holiday season.
Holiday Party Photography services include more than just a photographer that roams a party but also offers Green Screen Photography in addition to Onsite Printing Photography of packages that provides the guests a quick way of getting out the photos to loved ones during the busy holiday season. Packages start as small as a 4x6 print to as large as 1 8x10, 2 5x7's and 16 wallets also custom packages can be created upon request. Using the latest in digital printing technology delivers high quality prints in less than 5 minutes for the largest package. Green Screen Photography is also now offers the ability to provide unlimited background possibilities.
Displaying sample packages onsite helps guests to choose the package and speed up the process. In addition all photos taken are posted to an online order site for convenience of additional orders. This year Professional Images Photography has upgraded digital printers that can print a 4x6 image in under 8 seconds, 5x7 in 12 seconds and 8x10 print in 30 seconds that will keep the lines a minimum and the guests happy.
Holiday Event Photography is a service that provides one photographer or multiple photographers that capture candid moments and photos posted online for guest to view and purchase. A card is distributed to each guest as photos are taken or can be given to client ahead of time to include with ticket or announcement of party. Being innovative is what Professional Images Photography is all about. To learn more contact Professional Images Photography today.
About Professional Images Photography:
Professional Images Photography founded in 1987 provides Event Photo Marketing, Green Screen Photography,Convention Photography, Conference Photography, Onsite printing Photography and Event photography services Nationwide. The company is based in San Antonio, TX with offices in Houston, Orlando, Washington D.C. and now Las Vegas, NV.