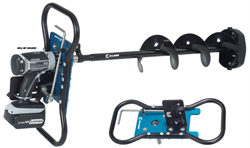 This drill is right in line for mobility in ice fishing.
(PRWEB) August 23, 2013
When it comes to ice fishing more information is the key to success. To get it one needs their electronics in the water. That's why drilling holes, often lots of holes, is the strategy of many serious, hard water anglers. Clam's solution is sure to be the biggest hit of this year's season: the new Clam Ice Auger Conversion Kit.
The kit converts any 18-volt battery (most have at least one in their garage) to become a lightweight, powerful ice auger. Boasting power, speed and less fatigue, this kit will have anglers from New York to Nebraska singing its praise.
Through extensive testing Clam found one18-volt battery will drill 700 linear inches of ice on a full charge. Considering a lot of the ice belt has less than 20 inches of ice in the winter, that's 35 holes. The 6-inch, stainless steel auger bit is durable and the perfect size. Anglers will be impressed at how fast it cuts, as it rips through the ice without fatigue with most units weighing less than 14 pounds in total. That means less preparation time and more time and energy for fishing.
The key is the industrial ball bearing that absorbs the load from the auger. The drill is used to spin and not to support the torque, which greatly extends the life of your drill. Clam's unique and innovative design removes the chuck from the drill then attaches the auger bit—just like you would normally on a power auger. There is no hassle and set up is easy. No loose bit will fall out of the drill, just pull the trigger and drill baby drill.
This powerful new product will rip through ice. The lightweight rig sets up with the same handle-style so it feels the same as gas-powered augers, just easier. The anodized aluminum frame has a comfortable feel and the tempered; stainless steel blades weigh only five pounds. An extension is available for deeper ice up to 30 inches.
"This drill is right in line for mobility in ice fishing," shared Matt Johnson, Manager of Ice Team™. "It is so lightweight and incredibly fast. This new way to drill holes will make your time on the ice efficient."
Watch a video of Clam's Ice Auger Conversion Kit on the Ice.
Three ways to purchase, the conversion kit (Item #9497) with a MSRP of $59.99, and the auger (Item #9498) with a MSRP of $79.99, or purchase together (Item #9578) for $149.99. The extension, sold separately as model #9561 is available for MSRP of $14.99.
"This is an extremely affordable option to anyone," continued Matt Johnson. "Most people have a drill at home. Getting set up is easy and this drill will make all the difference in the world. It's so lightweight folks from eight to 80 can use it."
For more information on Clam Outdoors™ go to http://clamoutdoors.com/.