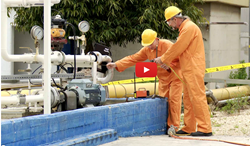 We would like to spread the word how fast and simple it is to create great images and analyze them on site.
(PRWEB) August 26, 2013
This high quality, professional film helps understand how to use Vidisco's portable digital radiography systems for quick X-ray inspection of pipes in field locations. See how the Digital Detector Array (DDA) Flat panel imager is easily set up for inspections and with a simple click of a button high quality images are available instantly on the system's computer screen. The system is set up easily on site even in tight spots and hard to reach locations. Maintenance analysis for pipes has never been easier with Vidisco's portable X-ray systems.
The film also outlines how with Vidisco's Xbit Pro software for the NDT professional, measurements and analysis is a cinch. The Xbit software offers automated tools developed for the NDT technician which include automatic wall thickness measurement, stitching, automatic calibration and more. The video also overviews the software's easy to use database as it is an integral part of conducting NDT pipe inspection in an orderly fashion. With the help of the video, NDT operators can also learn tricks of how to set up the DDA in a variety of places, how to work with some accessories Vidisco offers and how to achieve great images in field conditions.
To see Vidisco's video on pipe inspections
Ari Diamond, Vidisco's CEO explains: "We thought that creating a video outlining how to use Vidisco's X-ray systems will be useful to our customers and those thinking of purchasing our systems. Portable digital radiography systems are still rather new to the market and we would like people to learn how easy and quick it is to conduct inspections with them. Moreover, we would like to spread the word how fast and simple it is to create great images and analyze them on site."