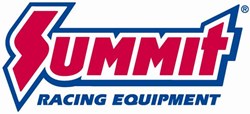 Tallmadge, OH (PRWEB) August 23, 2013
Everything needed to install a modern overdrive manual transmission in musclecars, street rods, and classic trucks with modern engine swaps. American Powertrain eliminates the hassle of installing a modern Tremec five- or six-speed gearbox in a classic vehicle.Summit Racing offers the transmissions, installation kits, and more to make your next transmission swap an easy one.
TRANSMISSIONS
Summit Racing offers American Powertrain Tremec TKO 500/600 five-speed and T-56 six-speed transmissions. They fit many GM and Ford V8 applications when used with the proper bellhousing. The TKO 500 is rated to 500 lbs.-ft. of torque, the TKO 600 to 600 lbs.-ft. The T-56 is rated to 700 lbs.-ft. of torque.
PROFIT INSTALLATION KITS
These kits have everything needed to install a Tremec transmission. The kits include:

Race-balanced driveshaft with U-joints and steel slip yoke
American Powertrain shifter mechanism that fits in original shifter position
Polyurethane transmission mount
Pre-packed pilot bearing with stainless steel rollers
Speedometer conversion (mechanical or electronic)
Reverse light and reverse lockout harnesses
Shift knob
Transmission crossmember (depending on application)
Sheetmetal transmission hump (depending on application)
PROFIT KIT APPLICATIONS

1964-67 GM A-body
1968-72 Chevelle/Malibu
1967-81 Camaro/Firebird
1955-57 Chevy
1965-73 and 1979-95 Mustang
1960-63 Falcon and Fairlane
Cobra kit cars and Ford-powered street rods
Summit Racing also offers American Powertrain hydraulic throwout bearing conversion kits, bellhousings, flywheels, shifters, transmission crossmembers, and more for custom applications.
Summit Racing Equipment
http://www.SummitRacing.com
1-800-230-3030