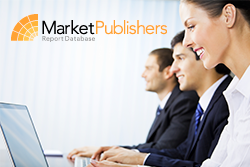 London, UK (PRWEB) August 22, 2013
Market Publishers Ltd and Market Intelligence & Consulting Institute (MIC) signed a partnership agreement for quality market research promotion on Internet. MarketPublishers.com is now authorised to distribute and sell MIC reports.
Commenting on the agreement, Tanya Levdikova, Assistant Manager at Partners Department, said: "Market Intelligence & Consulting Institute is a Taipei-based division of Taiwan's Institute for Information Industry, with its research mainly focused on the ICT environment in Asia. Since 1987, the company has been serving its diverse clients whether via subscription services or proprietary consulting and research. Whatever the area and ambition, MIC's team are always there to provide intelligence, impartial insight, and unique perspective necessary to making winning decisions. We are sure about productive cooperation relationships between our companies from now on."
In-demand studies by Market Intelligence & Consulting Institute:
Development Trends of Touch Panels Used in Notebook PCs, 2013 and Beyond. The rollout of Microsoft's next generation Windows 8 in the fourth quarter of 2012 has helped propelled the development of projected capacitive touch panels towards medium and large-sized panel applications such as notebook PC and All In One PC. Pricing is generally reckoned as the main inhibitor to Windows 8 notebook PC sales. Microsoft's new program, Small Screen Touch, narrowed the price gap between touch and conventional notebook PCs to push sales of touch gadgets. The report provides the latest development of touch panels used in notebook PCs and examines their future trends with insight into pros and cons.
Development Trends of the Worldwide All-in-One PC Market. Notebook PCs and desktop PCs have lost out as tablets are gnawing away at the global PC market share. However, the AIO (All-in-One) PC category manages to ride out the recession and maintain slight growth. With emerging markets becoming the powerhouse of AIO PC sales, branded vendors will have a good chance to break Apple's long-time dominance. The research report profiles the current status of the worldwide AIO PC market and pinpoints the market's future development.
Company Profile: Arcadyan Technology Corporation. The research study presents a comprehensive overview of Arcadyan Technology Corporation's development and current status, surveying the company's history, facilities, results of operation, investment profile, research and development resources and patents. Arcadyan Technology Corporation's strengths and weaknesses, as well as the opportunities and threats expected to be faced by the company in the years ahead are also highlighted in the report.
More details on MIC and their reports can be found at http://marketpublishers.com/members/mic_taiwan/info.html.
About Us:
MarketPublishers.com is a multilingual hypermarket offering a rich collection of comprehensive studies on various markets, sectors, industries, companies, etc. We perform professional services aimed to equip our clients with high-quality research products and support critical decision-making.