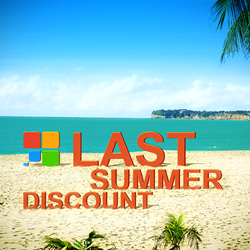 Now every SEO will get a unique chance to purchase SEO PowerSuite tools at a dramatically reduced price - the software deal will be available at 63% discount right after 5,000 people sign up for the sale alert.
Minsk, Belarus (PRWEB) August 22, 2013
Link-Assistant.Com, the software house behind SEO PowerSuite (all-inclusive SEO toolset) and BuzzBundle (social media marketing software) announced an oncoming sale of its flagship search engine optimization tools. For a short period the regular prices will drop from $249 to $149 for SEO PowerSuite Professional and from $599 to $399 for SEO PowerSuite Enterprise. In September the regular prices on SEO PowerSuite tools will rise, so the company points out that it's the last chance to buy the software so cheap.
What makes SEO PowerSuite tools so popular with website promoters?
SEO PowerSuite is an all-in-one SEO toolkit supports the full site optimization cycle: from keyword and content optimization to backlink research and professional reporting. The toolkit automates data collection, effectively streamlines SEO tasks and makes the procedure of website promotion easier and more efficient. These are the main reasons why 500, 000 users trust SEO PowerSuite tools.
About the SEO PowerSuite sale
"SEO world is constantly evolving: search engines continually alter their algorithms and the way they rank websites. So, it's important to choose SEO software that will be fully compliant with the latest search engines algos and largely facilitate all important optimization processes," says Viktar Khamianok, CEO, Link-Assistant.Com.
"A dedicated team of Link-Assistant.Com professionals are doing their best to adjust our software to the latest changes in search engines environment, introduce innovative features and incorporate the most advanced technologies in each tool. All that makes SEO PowerSuite de facto standard SEO software with the fastest growing user base," continues Viktar.
"As the demand of our SEO software is increasing at a rapid pace, we've decided to give every SEO a unique chance to purchase our SEO tools at a dramatically reduced price. We are sure that lots of people will sign up to the sale alert and spread a word about the sale on social networks. Also, we will be happy to provide anyone with a smashing 63% discount on our SEO tools and the possibility to enjoy the most innovative SEO solution," sums up Link-Assistant.Com CEO.
Link-Assistant.Com made an announcement about the upcoming SEO PowerSuite sale. For a 3 day-period the software will be available at the following prices:

SEO PowerSuite Professional: $149;
SEO PowerSuite Enterprise: $399.
SEO PowerSuite sale will start as soon as the number of the subscribed participants reaches 5,000. The deal is also announced as the last opportunity to purchase the SEO toolkit at a discounted rate before its regular price increases. Click here for more information.
About Link-Assistant.Com
Link-Assistant.Com is the software developer that has over seven years of experience in providing effective SEO solutions. The company has established itself as the innovative leader in the sphere of SEO and SMM technologies, and its products won popularity with bloggers, webmaster, in-house SEOs and SEO agencies. To be in the know of Link-Assistant.Com's news, read the company's blog: http://www.link-assistant.com/blog/ . Also, visit social media communities the company actively supports: Facebook fb.me/LinkAssistant, Twitter @LinkAssistant and Google Plus gplus.to/LinkAssistant.