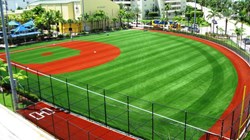 Sunny Isles Beach, Florida (PRWEB) August 27, 2013
City leaders, with continued passion for and focus on community parks, are constantly striving to improve our park system to provide the highest quality of outdoor space for the residents of our World Class City. To this effort, the soccer field at Senator Gwen Margolis Park and the Chief Fred Maas Baseball Field at Pelican Community Park have been newly renovated with artificial turf.
At Senator Gwen Margolis Park the field is open for use by the general public. Hours of operation are 9:30am – 8:00pm daily. The new field has four soccer fields marked (where three can be used simultaneously) to provide for maximum usability with city programs. The City runs various programs at this park, including Soccer Camps during the summer, Recreational and Competitive Soccer during the school year, and Adult Soccer Tournaments seasonally.
The Chief Fred Maas Baseball Field gets a tremendous amount of use throughout the year, with Physical Education classes for the Norman S. Edelcup/Sunny Isles Beach K-8 School, the City's After School Program, the City's recreational/athletic programs like baseball and instructional soccer, as well as competitive baseball through the North Miami Beach Little League. This new turf will provide for extended durability to survive all of the usage throughout the year, with a great looking field, still intact.
Both Sports Fields will have designated usage times free and open to residents, but will also be available for rent, for organized activities/events through the City's Sports Field Rental Permit program. For more information about our parks, programs, or services offered by the City of Sunny Isles Beach, please contact the Cultural & Community Services Department at 305.792.1706.