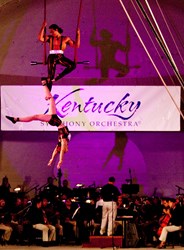 An evening at both the Circus and the Symphony — It doesn't get more family-friendly and fun than this. — James Cassidy, KSO Music Director
Covington, KY (PRWEB) August 23, 2013
The circus is returning to Covinton's Devou Park Labor Day Weekend. There won't be three rings or elephants, but high flying, spinning, fire-breathing, juggling acrobats and clowns will offer fun, thrills and nostalgia for the entire family. Join the Kentucky Symphony Orchestra and Circus Mojo for Cirque Devou Deux, an evening of musical delights, hilarity, and amazing feats with performers from around the world, 7:30 p.m. Saturday August 31, 2013.
Paul Miller, founder of Circus Mojo in Ludlow KY, and former Ringling Bros. clown, convinced his professional circus colleagues from around the country and the world to converge on Covington's Devou Park for a one-night only extravaganza, accompanied live by members of the Kentucky Symphony Orchestra. Thousands of Tristate residents attended Cirque Devou in 2010 when the KSO and Circus Mojo first collaborated at the park. This is an entirely new show, however.
International circus performer Christian Stoinev and his chihauau Scooby will perform their award winning act, while Mexico native and aerial acrobat, Omar Fuentes goes both vertical and horizontal atop the Chinese poles. 2012 U.S. National Wheel Gymnastics Champion Luisina Rosas and Sam Sake dazzle will perform in a duo German wheel act to Adele's "Someone Like You."
Director Aaron Easterbrooks leads an international contingent of circus performers from Ethiopia, Argentina, Hungary, Bulgaria, Tanzania, Mexico, together with local Circus Mojo performers. Musically, the KSO explores the atmospheric, musical sounds a la Cirque du Soleil and the klezmeresque fun of Cirkestra, together with nostalgic traditional big-top tunes and pop, jazz and movie favorites setting the mood and tempo for incredible performers.
The Orchestra thanks new sponsors Strauss Troy, Attorneys at Law, who join Toyota Motor Engineering and Manufacturing North America, Macy's and Fischer Homes in supporting the 2013 Summer Series. Their generosity covers just under 50% of the Orchestra's production costs. Admission is free though donations are encouraged. Every dollar given will be doubled thanks to a special challenge grant. The grant will match dollar-for-dollar gifts made at the concert and by mail or via website, from new donors, and increased gifts from current donors, up to $5,000 through September 1, 2013.
Bring blankets and lawn chairs to enjoy the idyllic outdoor venue. Parking is free throughout the park but limited. T.A.N.K. will operate shuttles from Covington Catholic High School on Dixie Highway to the band shell from 6:00 -7:30 p.m. Cost: $1 each way. Concessions has stocked up on popcorn, snow cones and cotton candy, plus area food trucks will make an appearance.
Additional information can be found by visiting kyso.org or calling (859) 431-6216.
About the KSO:
The Kentucky Symphony Orchestra takes the "phony" out of symphony through live thematic concerts that culturally enrich, educate and entertain the residents of Northern Kentucky and Greater Cincinnati. The KSO performs throughout Northern Kentucky performing three series of concerts. For more information visit http://www.kyso.org