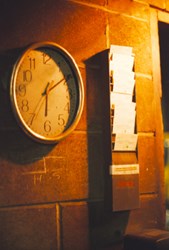 To keep your business out of trouble, a regular internal audit of wages and hours is important, according to Will Beesley, VP of HR Strategies.
Duluth, Georgia (PRWEB) August 23, 2013
It's never good news when the federal wage and hour division investigator turns up at a business after a worker complains. Owners can wind up mired in red tape – and on the hook for thousands of dollars in fines, even if they're doing their best to follow the regulations. For instance, according to a press release on the DOL's website published August 20, 2013, a company in Orlando, Florida was "found in violation of the Fair Labor Standards Act's overtime and record-keeping provisions." This company agreed to pay nearly $125,000 in back wages for these violations.
These investigations increase every year. In one year alone, the Labor Department launched 32,000 actions against employers, forcing businesses to disgorge more than $170 million in back wages. The Fair Labor Standards Act, or FLSA, is what the Labor Department is enforcing. It sets national standards for minimum wages, overtime pay, recordkeeping, and child labor. Small businesses need to pay attention to the guidelines just as much as larger ones do.
"Everyone sees the headlines about fines in the millions for large companies, but small companies also can face stiff fines that could conceivably hurt them even more than a larger company," said Will Beesley, VP of HR Strategies, based in Duluth, Georgia.
HR Strategies is a professional employer organization, or PEO. Small and medium-sized businesses turn to PEOs to handle complicated human resource chores – so much that they have become one of the fastest-growing service businesses in the country, taking over tasks like paying wages and payroll taxes. PEOs also help small business owners comply with the changes constantly coming from Washington in labor laws like the FLSA.
For businesses to stay out of trouble, a regular internal audit of wages and hours is important, according to Will Beesley, VP of HR Strategies. "If employers are too busy running the business and neglect their own internal audit, they could be in for a rude surprise," he said. "All of the nuances of wage and hour laws can seem inexplicable to a small business owner. That's why a professional employer organization can be a valuable ally."
A majority of businesses aren't prepared to unexpectedly pay over $100,000 in fines. In business for over 25 years, HR Strategies helps employers in Georgia negotiate the increasingly complex world of state and federal employer regulations.
About HR Strategies
HR Strategies provides the customizable HR solutions (including but not limited to payroll, benefits, workers compensation, tax administration, regulatory compliance, HR consulting, training solutions) and expertise of a large corporation's personnel department in an affordable and effective solution. HR Strategies enables clients to reclaim time, stabilize and reduce labor costs, and stay compliant with government regulations.