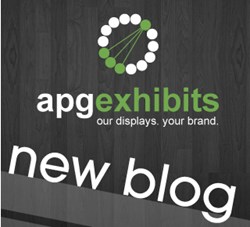 Our goal is to make customers' exhibiting experience as successful as possible.
Garyslake, IL (PRWEB) August 23, 2013
APG Exhibits is creating a new blog as part of their re-branding efforts to help new and experienced exhibitors find more trade show displays, tips and advice.
"APG Exhibits' new blog is dedicated to new and experienced exhibitors alike," says President Matt Baron. "Our goal is to make customers' exhibiting experience as successful as possible."
The blog will feature posts directed at exhibitors with trade show tips and advice from other professionals. Blog.apgexhibits.com will replace APG's old trade show blog with insights on specific displays, best practices, and more. APG Exhibits professionals will write about the benefits and downfalls of various trade show displays and ways to make the most of any booth space and budget.
APG Exhibits will also include insider news on the latest sales through the blog. Additionally, exhibitors can find tips, company news, and sales updates through the APG Exhibits newsletter. Anyone can sign up for the newsletter through the APG Exhibits' website.
APG Exhibits re-branded from "APG Trade Show Displays" in early August of this year to provide increased visibility for exhibitors looking to find trade show displays at the lowest prices. The re-branding efforts include a revised web address and reworked blog, as well as fresh social media profiles and promotional efforts, which give exhibitors exclusive discount offers plus behind-the-scenes advice on all things trade show-related.
For more information on APG Exhibits' new blog or re-branding efforts, contact APG Exhibits at 866-752-2192.
APG Exhibits is a premier online provider of trade show displays, outdoor exhibits, feather flags, pop up tents, custom banners and more. APG Exhibits' mission is to provide high-quality trade show display products and outstanding customer service at the guaranteed lowest prices. Contact Customer Support at 866-752-2192 or visit http://www.apgexhibits.com for more information.