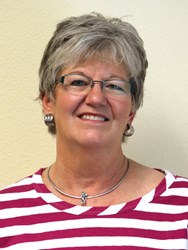 Richland, WA (PRWEB) August 23, 2013
The Institute of Nuclear Materials Management recognized Glenda K. Ackerman with the Edway R. Johnson Meritorious Service Award at its 54th Annual Meeting in Palm Desert, Calif. The award acknowledges her accomplishments in the nuclear materials management profession and her contributions to the Institute. Ackerman has 23 years of experience with nuclear materials control and accountability, including performance testing, internal reviews and assessments, and training.
As a Senior Training Specialist with Dade Moeller since 2011, Ackerman provides border security training at the Volpentest Hazardous Materials Management and Emergency Response ("HAMMER") Training Facility at the U.S. Department of Energy's Hanford Site. These courses train personnel from international border security agencies to detect and respond to the threat of weapons of mass destruction. She instructs both in the classroom and during field exercises on radiation detection equipment use, maintenance of equipment, procedures for safe transport of radioactive materials, and safety of personnel. Ackerman also is involved in curriculum development, program review, and equipment maintenance.
A 20-year member of the Institute of Nuclear Materials Management, Ackerman has served as President and Immediate Past President of the Pacific Northwest Chapter and currently is the chapter's SecretaryTreasurer. At the national level, she has served on the Executive Committee and the Technical Program Committee for the Annual Meeting. She also chairs the Memorial Outreach and Education subcommittee, responsible for annual student presentation awards and the Robert J. Sorenson Scholarship.
Born and raised in Richland, Wash., Ackerman retired from Battelle's Pacific Northwest National Laboratory in 2011 and is an active volunteer with the Tri-Cities Cancer Center and Lourdes Medical Center.
ABOUT DADE MOELLER: Headquartered in Richland, Wash., Dade Moeller is a nationally recognized firm that provides a full range of professional and technical services to federal, state, and commercial clients in support of nuclear, radiological, and environmental operations. Dade Moeller specializes in radiation protection, health physics, worker safety, and training. The company employs more certified health physicists than any other private entity in the United States.