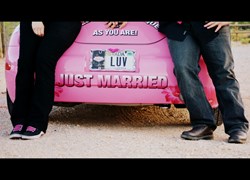 We want to provide the best service possible for all our couples, and this is one way of providing that for the Spanish-speaking bride & groom.

Rev Tim Rowland
Las Vegas, Nevada (PRWEB) August 28, 2013
Las Vegas Luv Bug Weddings is promoting a new service for Spanish-speaking couples who want to marry or renew their vows in Las Vegas. Aptly named, "Bodas en Espanol" which translates to "Weddings in Spanish," this offering brings a little bit of home to the Spanish-speaking wedding couple. For no additional fee, couples who want their Las Vegas wedding conducted in Spanish can have their wish come true when booking with Las Vegas Luv Bug Weddings.
"Over 17% of visitors to Las Vegas are out-of-country guests." Says Rev. Tim Rowland, owner of Las Vegas Luv Bug Weddings. "Not to mention the local population of over 27% hispanics. We want to provide the best service possible for all our couples, and this is one way of providing that for the Spanish-speaking bride & groom."
Rev. Tim grew up in Mexico, as the son of Baptist missionaries, and learned to speak fluent Spanish while living there. Having performed marriage ceremonies in Las Vegas for over 15 years, he has done hundreds of weddings in Spanish.
"I've been on the list for dozens of local wedding chapels. They would call me when they had a couple who wanted their ceremony in Spanish." He explains. "I've done Spanish ceremonies for couples from all over the world, from Spain, Argentina, Colombia, & Mexico, just to name a few. I think there are only 3 or 4 Central and South American countries I haven't had couples from."
Rev. Tim has performed wedding ceremonies in English and in Spanish for over 15 years in Las Vegas. Chapels such as A Special Memory, Caesar's Palace, Flamingo, Paris, MGM Grand and several others have utilized his services over the years. Now he brings his knowledge and experience to Las Vegas Luv Bug Weddings.