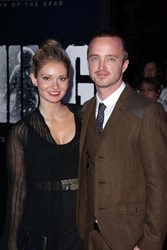 I think we all want to see our favorite celebrity couples last.
Bucks County, Pa (PRWEB) August 26, 2013
Celebrity Virgo's like Aaron Paul, Jason Sudeikis, and Max Greenfield will be featured along with their leading ladies in the companies couples compatibility charts.
PsychicsForetell.com is digging deep into the relationships of some of today's hottest celebrities. Over the next month, the company will be featuring Hollywood's favorite Virgo men and their lovely leading ladies in finding out how compatible they really are.
Foretell's bloggers will be hard at work finding out information on these celebrities and their mates to find out how compatible they really are based on their birth charts.
Featured in the compatibility charts, Foretell will look into initial attraction, intellectual compatibility, sexual compatibility, and much more. Foretell will also give insight into the possible outcome of the relationships.
To follow these stories, make sure you check out PsychicsForetell.com and click on their Psychic Blog page. They feature blogs every Monday and Wednesday on a variety of topics.