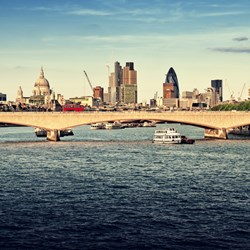 London will remain a great city by responding to public demands in the future
London, United Kingdom (PRWEB UK) 28 August 2013
The Council of Mortgage Lenders announced in August 2013, the highest number of mortgages taken out by the first-time buyers in the second quarter, since 2007. This is due to mortgages becoming increasingly available, but many first-time buyers are still struggling with the rising property prices in London's desirable areas and modes of transport and commute time.
"At Easy Relocation we encourage some of our clients to consider in length the advantages of a long term investment rather than investment in areas that have already reached their peak market value. The shortage of London housing and the question of affordability as well as convenient public transport in London is instigated by mayor of London through the upcoming projects in 'Vision 2020' announced in second quarter of 2013," said Rozi, founder of Easy Relocation.
The London mayor foresees, 'London to be the best place to work, live, play, study, invest or do business,' while the estimated, 'London population is to rise to 10 million by 2030.' The major areas of interest for development and gentrification are the Royal Docks, Battersea, Greenwich and Croydon with 400,000 new homes to be built in the next 10 years including attractive neighbourhoods and vibrant community centres. Consequently these areas are now holding properties with potential for a long term sound investment.
Therefore, it may be wise to contact the relevant councils to find out more information about new developments emerging in the next 10 years. Transport is another major player in a move and property ownership, and should be taken into consideration while making enquiries. The Crossrail stations are to be completed in 2018, the biggest engineering project in Europe and new tube extensions that will influence those particular areas significantly. The cycling revolution is continuing in the plans opening the way for cycling highways across London. Full details of 'Vision 2020' are now available for review .
"These property and transport developments will have important and significant social, cultural, and economic influences in years to come on many current and less desirable areas around London. It is important for London to provide the residents with more choice of attractive areas to live in. We therefore encourage the residents to look more deeply into these future city plans," said Rozi Bani-Ameri.
However, London's culture is elaborated by the city's historic buildings. London also enjoys the largest number of urban green spaces in Europe, as well as vivacious night life, and diverse range of nationalities. In addition London is a global financial centre that is large, crowded, and the pace can be fast and sometimes tiring. However, London also provides opportunities for all social and cultural interactions at every level and stage of life, where exploring different parts of London becomes a fun and adventurous activity.
At Easy Relocation (exclusive) we wish you a great living experience in London.
For more information about Easy Relocation's services for your business or personal needs, visit http://www.easyrelocation.co.uk and join us on Facebook and Twitter for the latest news and tips on London relocation.
About Easy Relocation:
Established in May 2012, Easy Relocation (exclusive) offers affordable and comprehensive relocation assistance and home search to companies and individuals moving to the UK and moving to London. Unlike other UK estate agents, at Easy Relocation we hold no business commitments with third parties or letting agencies. This gives us flexibility to conduct personalized, attentive and wide ranging property searches tailored to each client's budget, needs and taste.
To learn more about our services and to see what Easy Relocation (exclusive) can do for your business, visithttp://www.easyrelocation.co.uk and join us on Facebook and Twitter for the latest news and tips on London relocation.