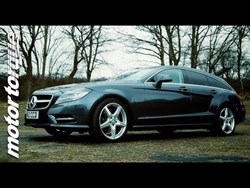 Liverpool (PRWEB UK) 28 August 2013
The Mercedes CLS Shooting Brake is a coupe-estate. Mixing the style of a coupe but with all the practicality of an estate, did the German manufacturer succeed?
Kris McDonald found that the body lines added to the streamlined design of the CLS Shooting Brake, which added to the coupe feel.
Inside expectations were met, as the interior was sheer luxury. MotorTorque was not left disappointed in terms of appeal, as the full leather trim was of premium quality and upheld the quality reputation Mercedes has.
Although, the price tag could be a little steep for the average buyer, MotorTorque put the Mercedes CLS Shooting Brake to the test to see if it was really worth the money.
Expectations ran high for the Mercedes CLS Shooting Brake so, join MotorTorque to find out what they thought it deserved out of the five available 'MotorTorque stars'. You can watch the video on the MotorTorque.com.site: http://www.motortorque.com/videos/new-car-reviews/mercedes-cls-shooting-brake-review-22521.aspx.
Contact MotorTorque:
Simon McBride,
Editor
MotorTorque.com
1st Floor Beetham Plaza,
25 The Strand,
Liverpool,
L2 0XJ
Tel: +44 (0)844 445 7862
Email: simon.mcbride(at)motortorque(dot)co(dot)uk