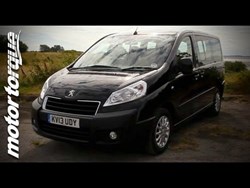 Liverpool (PRWEB UK) 28 August 2013
An unusual choice for the team to choose to review, the Peugeot Expert Tepee is based on its commercial van cousin, the Peugeot Expert.
MotorTorque's editor, Simon McBride, admitted it wasn't the best looking MPV on the road but it does make up for that by being extremely practical with huge amounts of space.
Inside the Expert Tepee it is, as expected, really spacious and surprisingly car like as the controls match those in the Peugeot car fleet. Simon found that the seats were comfortable and supportive, which would suit those travelling long distances.
However, the ride was found to be very "van-like." Having said that, MotorTorque thought that larger families or five-a-side football teams, would appreciate the amount of space, both for passengers and luggage.
Want to know more about the Peugeot Expert Tepee? Why not watch the video review on the MotorTorque on the main website: http://www.motortorque.com/videos/new-car-reviews/peugeot-expert-tepee-review-23134.aspx.
Ends
###
About MotorTorque.com:
Since 2006 MotorTorque.com has been providing car enthusiasts with exclusive news, reviews, ratings, features and video content related to the auto industry. MotorTorque.com can also provide new car buyers with the best quotes, test drives and brochures for new models from the world's leading car manufacturers.
Contact MotorTorque:
Simon McBride,
Editor
MotorTorque.com
1st Floor Beetham Plaza,
25 The Strand,
Liverpool,
L2 0XJ
Tel: +44 (0)844 445 7862
Email: simon.mcbride(at)motortorque.co(dot)uk