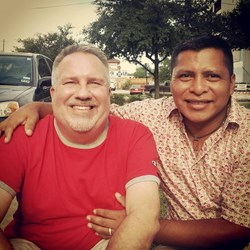 Congratulations Gonzalez Olivieri LLC
Houston, TX (PRWEB) August 25, 2013
One month ago yesterday, June 24, the United States Supreme Court struck down the Defense of Marriage Act, ruling it unconstitutional. Shortly after the decision, President Obama directed federal departments to ensure the decision and its implication for federal benefits for same-sex legally married couples are implemented swiftly and smoothly. To that end he directed U.S. Citizenship and Immigration Services (USCIS) to review immigration visa petitions filed on behalf of a same-sex spouse in the same manner as those filed on behalf of an opposite-sex spouse. Today, our firm was granted the first same sex visa petition in the State of Texas and the City of Houston.
In anticipation of the decision, his Immigration attorney Mr. Raed Gonzalez filed a visa petition on behalf of Mr. Isaias Rivas, a Mexican national. Rivas was being sponsored for residency by his United States citizen husband Mr. Fred Smith. Rivas fled his native Mexico in 2004 due to discrimination for being gay. He and Smith met at church the following year and have been together ever since. In 2009 immigration officials detained Rivas-Guzman, and he has been fighting deportation since then. Mr. Gonzalez was able to get his deportation case closed. Now he will be able to take advantage of the new provisional waiver created by the Obama administration to get his residency visa abroad. And got approved first same sex immigration visa in Houston, Tx. (case Gregorio Isaias Rivas Guzman)
About Raed Gonzalez, JD LLM president and founder of Gonzalez Olivieri LLC has been practicing immigration law for over 17 years. He has been has been featured as a Super Lawyer 2013 for Super Lawyers Magazine, Houston Top Lawyer by H Houston Magazine, Who's Who in American Immigration Law, Who's Who in America, the New York Times after successfully representing Kevin Cassasola, the Honduran migrant child portrayed in the Oscar nominated HBO documentary Which Way Home in his asylum case, a frequent contributor to the Houston Chronicle, and for his support for comprehensive immigration reform he has been featured and interviewed by July Banderas as an expert on immigration on Fox News America's News Headquarters, featured on Greta Van Susteren's On the Record, is a regular contributor with Telemundo, a regular contributor with Univision and many more national and international media outlets.
For additional information contact Robert Acaron and/or Brenda Saldivar at (713) 481-3040 or email at raed.gonzalez46(at)gmail(dot)com regarding first same sex immigration visa petition in Houston, Tx.