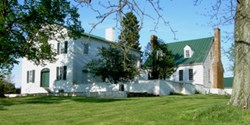 Waterford, VA (PRWEB) August 25, 2013
The owners of Barrel Oak Winery, Brian & Sharon Roeder, are hosting a Wine and Cheese event on Sunday, September 15th to benefit the Journey Through Hallowed Ground Partnership, a non-profit organization dedicated to raising awareness of the unparalleled historic, natural, and cultural landscape within the swath of land from Thomas Jefferson's Monticello to Gettysburg, Pa.
The event will take place from 5:00-8:00 p.m. at Chief Justice John Marshall's estate, Oak Hill, in beautiful Fauquier County, Virginia. Attendees will enjoy an evening of fabulous wine and light fare. In addition, they will learn about the history of the home, the restoration process, and take a tour of Oak Hill. A silent auction will also take place with over two dozen items available to bid on. Tickets are only $55 per person.
Oak Hill was an early home of John Marshall, the longest-serving Chief Justice of the United States Supreme Court. The home, built by his father Thomas Marshall, was originally a small wood-frame dwelling, completed by 1773 when Marshall was 17. It is a classic example of Virginia's colonial vernacular. John Marshall became the owner of Oak Hill in 1785 when his father moved to Kentucky. Although John Marshall lived mostly in Richmond and Washington, he kept his Fauquier County property, making improvements and using it as a retreat. In 1819, he built an attached Classical Revival house as a residence for his son Thomas and his wife Margaret, for their expanding family of six children.
In 2006 Brian & Sharon Roeder purchased the immediately adjoining 70 acre parcel and opened Barrel Oak Winery in 2008. In 2010, the Roeders acquired Oak Hill, reopening the original county roadway (circa 1760). The Roeders have been dedicated to preserving Oak Hill as a part of our American History for all to enjoy. Now, generations will be able to come and experience history through wine and education through their John Marshall Tasting Experience. The John Marshall Tasting Experience offers guests the unique opportunity to try rare wines in a historic country setting. The wine list not only includes Barrel Oak Winery's signature label, Chief Justice Cellars, but a sampling from the best wines that Virginia –and indeed the entire world – has to offer. Each select wine will be paired with an entirely unique food item designed to bring out the extraordinary impact of each vintage. This curated collection of wines juxtaposes, compares and contrasts New World winemaking styles with those of the Old World. Tasting choices range from $29 to $79 and includes a diverse variety of wines and food pairings. All wines sampled will be available for sale in the John Marshall Tasting Experience shop.
For more information visit, http://experienceoakhill.com or http://www.barreloak.com/. Tickets for the event can be purchased at http://www.HallowedGround.org/johnmarshall/.