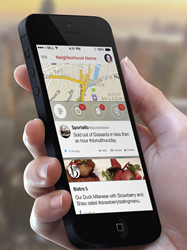 Hyper-local and mobile are two actively-evolving verticals and we are right in the middle of it. Users are ready for it but the products haven't all been created yet.
Boston, MA (PRWEB) August 27, 2013
CO Everywhere announced today its launch of a new mobile platform that leverages social media to create a real-time local news feed of everything happening in the locations you care about most; where you live, work, go to school or your next vacation destination.
The newly released iPhone app pulls real-time social content from 1,000+ sources and filters those stories by geography to keep users connected to any location in the world. CO Everywhere hits the App Store today and is available to be downloaded worldwide on iPhone.
Over the years "hyper-local" has been talked about as the next major evolution on the Internet; yet, various players and platforms have experienced difficulty in creating a product that channels the true meaning of the term. CO Everywhere seeks to fill that void. According to the company's Co-Founder and CEO Tony Longo, "Hyper-local and mobile are two actively-evolving verticals and we are right in the middle of it. Users are ready for it but the products haven't all been created yet. The way in which we are addressing local, particularly our use of and focus on mobile, is special. We feel very good about the product we are launching today and our roadmap for the future."
The app is as simple as drawing on the map to define a specific location. Once you do that, users experience a real-time feed of all of the social activity that is unfolding in the area, including photographs, tweets, tips, events, reviews, crime, local deals and more. Some beta testers have described the app as the next big social network, where your relationship is with the location, not your existing friend-base.
CO Everywhere differentiates itself from past hyper-local platforms in its ability to connect users to locations that matter the most to them. The company hovers in a unique space, above the location of a specific venue but below the bounds of an existing neighborhood or town. Additionally, CO Everywhere appeals to a wide array of users comprising of locals, travel enthusiasts, real estate professionals, college students, parents, foodies, and more. Dan Adams, Co-Founder and CTO of CO Everywhere, acknowledges the difficulty regarding the hyper-local space, yet believes that the app will serve as the bridge connecting digital relationships and real world ones. Dan Adams also notes, "Hyper-local is clearly a hard space and we understand that. There are a lot of successful companies having problems here, but what we think will make us different is a commitment to quality, and a relentless focus on creating a product that people really want."
About CO Everywhere:
CO Everywhere is an app that lets you follow the social activity happening in a specific location, anywhere in the world. The platform organizes local news, tweets, Facebook posts, Instagram photos, Foursquare tips, Groupon deals, Yelp reviews, Eventbrite events, Meetups and much more into one social feed. With CO Everywhere you are never out of touch with your favorite places or the people that make them come alive. The company is headquartered at 1 International Place in Boston, MA and operates out of the Start Tank, a technology incubator operated by PayPal, Inc.