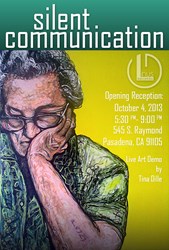 ...there is this feeling I get when I know I am getting those perfect portraits that really express what the person is about.
(PRWEB) August 29, 2013
As Los Angeles art gallery, Linus Galleries, begins to organize their next live art show, it cannot go unnoticed how successful their last reception for the "It's Only Natural" art show was. With a crowd full of art enthusiasts, the Pasadena art gallery presented an intriguing collection of artwork. Having local artists and those who flew in for the show, not only gave everyone a chance to talk with them, but it also gave the artists the opportunity to make connections and give insight on their process to buyers and those interested in knowing more.
All the artwork on the walls was accompanied by a live demonstration by Los Angeles trash portraiture artist Annie Terrazzo. By allowing guests to choose magazine strips with quotes on them, Terrazzo's demonstration brought an interactive quality to her finished piece. The live performance by upcoming duo Kids Without Instruments added to the fun, welcoming vibe of the evening.
Focusing on some of the artists who participated in "It's Only Natural", curator of Linus Galleries and fine art portrait photographer, Linnea Lenkus, created an artist portrait series allowing her to gain a different perspective into their creative process. Portrait photography has been a long time passion for Lenkus; she strives to photograph the soul of a person. For the portrait sessions, artists spent time with the Los Angeles photographer in order for her to express their individuality through photography. The final portraits are Lenkus' gift to the artists to help them self promote. These portraits are also the early stages of a project where they would be showcased alongside their respective artist's work.
All the portraits show the artists' personality, something rarely taken from just looking at their artwork. When asked how she is able to get people to be themselves in front of the camera, Lenkus shares, "I have been doing it for so long that there is this feeling I get when I know I am getting those perfect portraits that really express what the person is about". In regards to Doug Sandelin's portrait, she states, "Doug is a fantastic artist and has a vibrant personality. His hair being a dominant feature, I wanted to play with that element to show how fun he is". Lenkus' ease and style allow her portrait subjects to feel comfortable and be themselves, clearly reflected in her artist portrait series.
"It's Only Natural"'s incredible turnout brought in a wonderful crowd and resulted in a lot of sales. Being the best art show Linus Galleries has had so far, shines a light of hope for their next live art exhibition entitled "Silent Communication". Lenkus looks "forward to future shows and expanding the gallery". For "Silent Communication", the art selection is getting better and better as more compelling artwork is submitted. The art reception for the October 4th art show will also include a live artist demonstration with watercolor artist Tina Dille and a live musical performance by Alyssandra Nighswonger. The opening reception will run from 5:30PM -9:00PM. The exhibit will be open on Sunday, October 6 through Saturday, October 12 from 1PM to 5PM.
About Linnea Lenkus
Los Angeles photographer, Linnea Lenkus, specializes in Maternity, Children, Family and Celebrity photography as well as Fine Art Nude photography. Linnea is a highly experienced, internationally published, professional photographer with worldwide commercial success. In a photography session with Linnea, clients receive the benefit of her artistic eye and her technical mastery honed over decades of photography experience. Linnea Lenkus is the owner of two fine art portrait studios located in Pasadena and Long Beach California . See a video of this photographer in action.