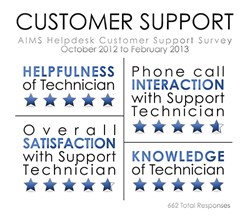 With the expansion of the support team, we are not only able to respond quicker, but can address issues more accurately due to the high knowledge of our support reps, resulting in better customer experience.
Los Angeles, CA (PRWEB) August 29, 2013
The fashion industry's leading apparel ERP software company, AIMS360, has expanded their technical support staff and has brought on an AIMS-certified implementation team.
The new technical support reps come from Industry (both education and job) and have years of experience using the AIMS system and many add-on features. AIMS360 offers support by creating a support ticket online and has recently added a call queue to speak to a live representative. "With the expansion of the support team, we are not only able to respond quicker, but can address issues more accurately due to the high knowledge of our support reps, resulting in better customer experience," says Shahrooz Kohan, COO of AIMS360.
Along with new increase in technical staff, the company has also integrated a special task force for implementation. The new tier of support allows for AIMS360' more sophisticated users and business clients to receive personal, in-house support and implementation for a nominal fee. The team acts as a consultant and will help identify and implement the AIMS system to work most efficiently for the organization. "By implementing the AIMS system using our new integration team, we have seen a significant decrease in the number of incorrect setup and technical issues," says Shahrooz.
SELECTING THE RIGHT TECHNICAL SUPPORT
If something can go wrong—it will! This ancient philosophy certainly applies to today's technologies, including apparel ERP software. Planning to install a new system or upgrade a current one? Clothing manufacturing businesses want a provider that offers top-flight technical support. Here are some service points to look for:
Knowledge-Based Articles
Many technical problems are not new: they and their solutions already exist in electronic files offered by numerous tech support websites. To access these articles, just sign on to the site, type in the subject or question, and the site will call up the appropriate files—permitting someone, often, to solve the problem on their own.
Implementation Assistance
Once an apparel business has purchased or rented a system, it's extremely important that they set it up properly so that the business and the system run in sync seamlessly. This is where an implementation specialist can assist. AIMS integration specialists can help a new customer get started, go over training questions, and make sure the customer performs the correct setup configuration process in the AIMS software.
E-mail Assistance
Many support requests are relayed via e-mail. At AIMS, a sophisticated response system identifies the customer, logs into the account, and—if a technician is not immediately available—relays a Help Desk "waiting number" back to the customer. As a technician becomes free, he or she picks up the request and begins an e-mail dialogue with the customer, continuing until a solution is reached. Further, the interchange automatically becomes part of the client's account history, speeding a solution if a similar problem recurs. The client, too, can log into the Support System's record for later reference.
Telephone Assistance – Phone Queue
Complex issues that are time sensitive often require live phone help. Trying to explain an issue in detail via email may not be easy and could be misinterpreted, resulting in more email dialogues. In this case, the caller can call a dedicated number and speak to a live support representative. Any good business that respects customers' needs should have a live representative available at the least during business hours. Many businesses like AIMS have implemented a call queue which allows for a client to call in and if a customer representative is not available, they will be placed in a queue based on who called first and will be assisted by the next available representative. AIMS call queue also offers an option to callers that have been on hold for a certain period of time to be called back without losing their place in line. Once the client has spoken to the representative and created dialogue, if any follow-up is needed, then email communications can resume. These calls, too, become part of the client's Support Desk history: if the problem or a related one reoccurs, the Support team can refer back to the problem and its history, without having to start from scratch.
Remote Support
One of the most "hands on" type of support can be achieved using remote support, which is used by many fashion software providers, including AIMS. When a customer calls with a problem too complex to resolve on the phone, then, with the customer's permission, an AIMS support technician can use the internet to view and help control the customer's computer to observe and resolve the problem.
Supplier's Policies
When one shops for new application software, it's important to know what kind of support they're entitled to and what it will cost.
Call-back Policy
A call for technical assistance shouldn't be allowed to fall through the cracks. Ask, at the outset of an arrangement, what the software supplier's policy is regarding call-back time. Further, ask what procedures the supplier has in place to enforce the policy. For example, the policy at AIMS is to respond to a customer's initial call within four hours maximum, even though the average call back is usually in 30 minutes or less; further, we work to resolve the issue within that time. AIMS also monitors the volume of calls to their Help Desk; if seen that they are approaching the regular Support Staff's capacity to handle them, AIMS will reassign knowledgeable technicians from other parts of operations to assist.
Maintenance Policy
Look at the apparel ERP software provider's contract. How much maintenance comes cost-free? At what rate is the maintenance cost after that? Is there "bug insurance"—that is, if there's a bug in the software, does the support company fix it? Is it free? Who pays for upgrades?
Do the Support Technicians Know The Apparel Industry?
A surprisingly frequent complaint among apparel companies buying vertical software is that when they call for support, they get connected to "techies"—people knowledgeable about the systems but for whom terms such as "cutting ticket" or "cost sheet" are a foreign language. Make sure the people being talked to know the industry language. At AIMS, for example, most support specialists have had apparel production, apparel related EDI, or other apparel experience.
AIMS is the leading fashion software for the apparel industry. For more information or to answer any questions please contact:.
310-361-5710 | info(at)aims360(dot)com | http://www.aims360.com