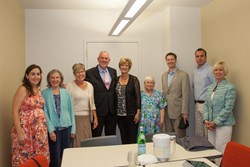 The work Capitol Hill Village residences and staff are providing, to make a better quality of life, is a model for all communities across the United States.
Washington, DC (PRWEB) August 27, 2013
The country's population is shifting with more multi-generational families living under one roof since the Depression, according to Reico Kitchen & Bath. The growing relevance of universal living and design was the focus of a recent meeting on Capitol Hill involving a number of organizations interested in learning and teaching best practices in design, from kitchens and baths to entire communities. These "smart design" ideas apply to people in every phase in life, allowing a shift from the idea of "aging in place" to the simple goal of "staying in place" as we live.
Organized by Byron Buck of National Capital Kitchens, with support from Reico Kitchen & Bath, the meeting included members of the Capitol Hill Village, a non-profit organization created to provide members with the services, expertise and social opportunities they need to live safely and comfortably in their own homes through their lives. DC councilman Tommy Wells made a special visit to the meeting to share his thoughts and also attending was kitchen and bath industry expert Sarah Reep, ASID, IIDA, CMKBD, CAPS of Merillat and Masco Cabinetry in Ann Arbor, MI, who has done extensive research on universal living and the concept of "staying in place."
The meeting shared the experience of those living in the Capitol Hill Village community, which includes Byron Buck as well, and the importance of universal design and living successfully at home over a lifetime. According to Byron, "Mobility is a huge issue. Widening aisles and openings in homes has benefits for all ages, creating room for double wide children's strollers or proper wheelchair access." Other ideas cited included the importance of double handrails and grab bars, and the benefits to both young children and older adults.
Through partnering between Capitol Hill Village, National Capital Kitchens & Reico Kitchen & Bath, the goal is to work together to continue to educate residents on the opportunities they have to "stay in place" through design modifications, community enhancements and the future design of housing in DC.
"The Capitol Hill Village community and its residents are leading the future for housing and neighborhood development. Connectivity and engagement is so important in finding ways to live at home better. Something as small as a seated height table close to kitchen functions provides a place to gather and rest while cooking," commented Reep. "The work Capitol Hill Village residences and staff are providing, to make a better quality of life, is a model for all communities across the United States. I am so glad that Reico Kitchen & Bath and Merillat could attend and learn more about this leading ground work."
About Reico Kitchen & Bath
For 60 years, Reico Kitchen & Bath is the premier distributor of kitchens and bathrooms in the mid-Atlantic region with 17 stores covering VA, MD, DE and PA. While they are the largest kitchen and bath distributor in the country, the success of their company has been structured around earning the business and appreciation of their clients. It is their goal to have every customer recommend them. They offer full turnkey service, providing cabinets, countertops, appliances, installation and everything else for a kitchen or bathroom project. Come to where the professionals have trusted their own businesses to since 1952, and watch Reico bring the dream of a new kitchen or bathroom to life. For more information visit http://www.reico.com/
About Capitol Hill Village
Our vision is quality life on Capitol Hill. We work hard to ensure that our members have the confidence and practical means to stay in their own homes throughout their lives. With one phone call or e-mail message, Village members gain access to a range of professional and volunteer services and a variety of educational and social programs. Volunteers and staff provide free transportation to events and appointments; medical and legal advocacy; advice on senior-friendly home renovation updates; vendor recommendations for repair and maintenance projects; and a monthly list of programs and activities. Individuals and households of all ages are encouraged to join. Members must reside on Capitol Hill in Washington, D.C. The boundaries are H Street NE to M Street SE, North and South Capitol Streets to 19th Street, SE and NE.