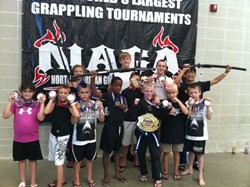 "His passion paired with his knowledge makes him an expert..."

- Julius Park, Head Instructor
Baltimore, MD (PRWEB) August 24, 2013
On Saturday, September 14, Danny Ives of Ivey League MMA will host a kids Brazilian Jiu-Jitsu seminar at Crazy 88 Brazilian Jiu-Jitsu.
Brazilian Jiu-Jitsu is a combat sport that was made famous by the Gracie family. It is similar to wrestling and incorporates the use of Judo take downs as well as submissions.
Jiu-Jitsu is considered to be one of the best options for self-defense because of its real life application. In addition to being realistic, the fundamentals alone can provide basic self-defense making it one of the best choices for children.
A Black Belt in Brazilian Jiu-Jitsu, Danny is the Owner and Head Instructor of Ivey League MMA located in Arnold, MD. He is considered by many to be an expert kids martial arts coach.
Head Instructor of Crazy 88, Julius Park said, "Danny is passionate about what he does. It's apparent in his teaching. His passion paired with his knowledge makes him an expert and he is hands down the best kids martial arts instructor in the area."
The seminar will focus on basic techniques as well as a sparring portion. This will allow the students to roll and then receive feedback from Danny for them to apply to their regular classes.
For more information about Ivey League MMA visit http://www.iveyleaguemma.com or call (443) 949-7208.
For more information about Crazy 88 - Elkridge visit http://www.BaltimoreMixedMartialArts.com or call (443) 283-1450. To learn more about Crazy 88 -Owings Mills visit http://www.Baltimore-MMA.com or call (410) 999-1064.