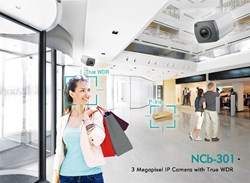 Fremont, CA (PRWEB) August 28, 2013
NEXCOM develops the first 3 megapixel IP cameras in the new surveillance camera lineup - the NCb-301 and the NCb-311. The NCb-301 and the NCb-311 cameras feature 100dB Wide Dynamic Range imaging (WDR) and Precision/DC Iris control making them perfect for all levels of security monitoring and surveillance applications.
The NCb-301 is a high-end megapixel IP camera designed for large-scale surveillance networks. The NCb-301 also offers 3 megapixel resolution (2048 x 1536) at full frame rate 30FPS (or 1080p 60FPS). With a motorized 3~10mm varifocal lens, the NCb-301 allows security personnel the ability to remotely refocus through the network to expand or narrow the surveillance area.
To ensure image quality, the NCb-301 offers True WDR and P-Iris functions. The WDR camera brightens the dark areas and darkens certain areas to optimize a captured image, in low-lit environments such as a basement parking lot with high lighting contrast. In addition, the NCb-301 has the ability to sharpen blurry objects spread across long supermarket aisles or office corridors, creating realistic images as seen by the eye.
The NCb-311 is an entry-level 3 megapixel IP camera, which performs 20 FPS (or 1080p 30 FPS) aimed at small shops or independent stores. The NCb-311 also supports the CS-mount varifocal DC Iris.
About NEXCOM: NEXCOM International Co., LTD., an ISO-9001-certified company and a member of PICMG, PCI-SIG, and the Intel® Embedded Alliance, is at the forefront of the competition by offering OEM, ODM and OBM designs for products such as innovative blade servers; network security appliances; industrial and embedded PC products such as single board computers, embedded boards and systems; CompactPCI CPU boards; industrial-grade server boards; and customized platforms. Established in 1992, NEXCOM has won several patents, awards, certifications for its high-quality products and service that meet international standards and worldwide customers' requirements. To serve its worldwide customers, NEXCOM, headquartered in Taipei, Taiwan, has seven subsidiaries located in the United States, the United Kingdom, France, Italy, Germany, China, Japan as well as distributors in the other parts of the world. For more information, please visit http://www.nexcom.com.