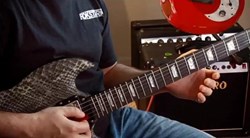 (PRWEB) August 24, 2013
Using his trademark snakeskin Spear guitar, Johnson demonstrates the motion, rocking back and forth between two notes on adjacent strings. He recommends using notes that are a fourth apart for the best sound, which is reminiscent of Eric Clapton's style. Players can either barre between the notes or use individual fingers. Johnson next shows how to pivot through a pentatonic scale, then how to combine pivots and slides to construct an entire solo. He points out that this is "a powerful and effective way to create texture."
This online excerpt appears at http://www.youtube.com/guitarcontrol under the title "Guitar Solos with Pivot Notes." The site also features lessons from many other GuitarControl.com teachers.
Adding to its popular line of lead guitar DVDs, GuitarControl.com will release Supercharged Soloing Made Simple on Sept. 4. The program, structured like a private lesson, offers insights on guitar performance and techniques from a new perspective that Johnson calls fluency. "Supercharged Soloing Made Simple" builds mastery through position shifting, three-notes-per-string riffs, rhythmic playing, tapping, hammering, and bending.
GuitarControl.com, a leader in online music education, is the brainchild of ace Philadelphia guitarist Claude Johnson. Since its launch in 2004, the site has offered lessons taught by virtuosos in styles ranging from rock, metal and blues to jazz, bluegrass and country to classical, flamenco and fingerstyle acoustic. Its many DVD courses, include Rock Riffs Made Simple, Larry Coryell Jazz, Fast Track Guitar System, Wicked Chicken Pickin' Chops, How to Play Smokin' Blues Guitar, Killer Lead Guitar Made Simple and Gospel Guitar, as well as courses for singers, drums, bass and keyboard, and music software, song collections and jam tracks.