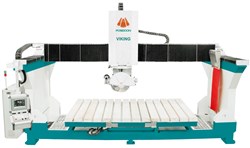 4 Axis CNC Bridge Saw and 5 Axis Milling Machine!
Punta Gorda, FL (PRWEB) August 30, 2013
Humans have been shaping stone and using it to create buildings since around 5000 BC. The industry has certainly come a long way since then, with the development of innovative tools and techniques making shaping stone a much faster and more efficient process.
Now, a new player is taking the US stone machinery world by storm. The team at Poseidon Industries, Inc. have spent years repairing stone machinery and learning the intricacies of what works best. Excitingly, these key players have now come together to build and sell – through Poseidon – their own brand of unique, market-leading tools to reshape stone shaping across the US.
With over 25 years' combined experience, the Poseidon team know precisely what is needed in order to make the process of cutting and shaping stone easier, faster and more cost effective – something that industry players will no doubt be glad to hear in these uncertain economic times.
Poseidon Industries has three key areas of expertise: CNC stone machinery, stone edge polishing machines, and stone cutting bridge saws. The team are justifiably proud of the new range of equipment, which has already been well-received within the industry. Their key products include the Brilliance slab polisher, the Vanquish Waterjet CNC saw and the Goliath block saw. In all three products the Poseidon team have ensured that the latest technology is combined with innovative design features to create a new class of equipment for all those working with stone.
The Poseidon team have scoured the globe in order to source the highest quality specialist parts to ensure that their final products remain at the cutting edge of stone shaping technology. Their new Odeon bridge saw, for example, which features a touch-screen for ease of use and precision, is made in the US, but features a specialist 20 HP motor made in Italy. The saw is an example of Poseidon's innovative approach, with a unique tilting feature that allows users to take the bridge to a 45-degree angle simply by pushing a button on the main console.
Poseidon's expertise also extends to glass equipment, and their Tempertech 72 glass tempering oven for flat glass is made with European components and to a contemporary Finnish design. Features include a choice of belt size, a touch-screen operating panel and the ability to temper glass from 3 mm to 19 mm thick.
Keen to show off the abilities of their state of the art machinery, Poseidon are welcoming interested parties to view demonstrations by appointment at their site in Miami, FL. There is no doubt that those who have yet to see the equipment in action will be impressed and the industry will surely be keeping a close eye on this new player to see just how many more innovations Poseidon Industries comes up with in the years ahead.
To find out more about Poseidon Industries, Inc. and their range of innovative products, call (877) 571-5599, email info(at)poseidonmachinery(dot)com, or visit http://poseidonmachinery.com/.