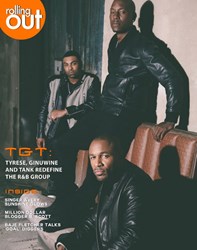 Atlanta, GA (PRWEB) August 24, 2013
There was a time when soul and R&B groups ruled the music charts. From soulful crooners such as The Temptations and The Jackson 5 to collectives such as New Edition and Boyz II Men, soul and R&B groups set trends and provided the soundtrack for youth-inspired love.
Today, the concept of an R&B group is on the verge of becoming obsolete. Enter Tyrese, Ginuwine and Tank who joined forces to create the R&B supergroup, TGT. Ginwuine vaunts, "When I say we're bringing R&B back, we're bringing R&B back as we know it."
With the release of their new album, "3 KINGS," TGT is preparing to take the R&B mantle to the next level. Plus, the handsome and svelte trio is especially appealing to the ladies.
"There is a way for you to go about respecting a woman, cherishing and adoring her," Tyrese tells sports and music editor Amir Shaw.
"I don't think a lot of young guys have really learned what it means to love," adds Tank.
Visit rollingout.com to read the interview in its entirety. Be sure to check out the exclusive photo shoot and video footage with celebrity photographer DeWayne Rogers.
About rolling out Magazine:
Rolling out, the nation's largest free urban weekly, is a digital and print magazine that focuses on the black experience in response to entertainment, politics, fashion, culture, sports and lifestyle points of interest. Headquartered in Atlanta, rolling out is positioned as the voice for the African American experience, using its newspaper as a platform in the marketplace to express urgency for education reform, and to document entrepreneurial endeavors and other relevant issues in the Diaspora. For information on rolling out, please log on to rollingout.com.