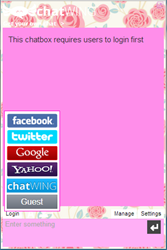 Los Angeles, CA (PRWEB) August 31, 2013
The premise of date chatting is going on a change, according to Chatwing's team of developers. The company has been observing the niche of chatroom dating for years now, hoping to create a solid foothold. With the launch of Chatwing's newest widget, the developers believe that chatroom dating will become easier than ever.
"Chatwing chat apps operate on a simple mechanism. First, you have to register. Do not worry about confirmation links. Just leave your email address and desired password. After that, you are good to go," Ivan Diamond said. He is one of the designers of the new Chatwing app.
"Website owners can use our chat software to boost their website traffic. It is free, so there is no need to worry about subscription. However, they are free to avail premium services. With these services, higher rate of visibility is ensured and customization will have lasting appeal," Mr. Diamond continued.
Webmasters in the dating niche also rely heavily on social media functions. This is the reason why the Chatwing Team has added social media login methods. Now, users can log in with their Facebook, Google, Twitter, and Yahoo accounts. More login methods will be introduced and information about these updates will be discussed in Chatwing's Facebook page.
About Chatwing.com
Chatwing.com specializes in the new field of live website chat software. Over years, the Chatwing team has introduced live chat widget for hundreds and thousands of blogs. The Chatwing application bridges people from many parts of the world, creating global synergy through the Internet. The shout box can be installed in just seconds, and it can be used for varying purposes such as leisure and Internet marketing. It also allows a user to customize the size, color, and name of the widget.