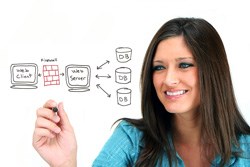 I would like to thank you for the wonderful work that you have done for my web-site. I have had numerous compliments from customers and feel it has enhanced the portrayal of my business. - M. Cooper
Markham, Ontario (PRWEB) August 27, 2013
There are many things that can make-or-break a website design. Websites are supposed to be designed to attract and engage site visitors. The problem exists when website owners do not fully understand that extraneous functionality, things that distract the user once they have arrived, can be a "negative thing".
Len Doren, Creative director of IFM Web Services in Markham, offers, "Most of our clients understand the need to convey their company message to their site visitors. And, unless a client is an "entertainer", we discourage the theatrics we see so often on business websites on the internet today." Len goes on to add, "Conveying the message should be the most important angle on any site. You could have a professional WordPress design with responsive design attributes and spot-on navigation, but if the message is lost with all the on-page theatrics, then making the sale or even just making contact with that site visitor, can be negated."
Here are a few tips site owners may want to avoid when considering a redevelopment of their websites.
1) Splash pages. Splash screens are a waste of time and money. Make sure website visitors land directly on the proper entry page or internal page without having to go through any extraneous pages immediately. Getting visitor to the right page, right away will begin the process of educating them about the products and services the business offers.
2) Don't employ "Popup windows". There are some that disagree with this point, but when visiting a website for the first – or possibly even second time, an annoying "popup" window telling visitors to "go here" or "sign up for this" are generally perceived as a turn-off.
3) Pages stuffed with Keywords. This is a popular method by the uniformed trying to gain positioning on the search engines, but it doesn't work. In fact the opposite can happen and a website page could disappear or never gain prominence on the first page. Make website content for humans, not search engines.
4) Use of Music. Even though most of the population listens to music of some kind, not all people have the same taste in music. What seems wonderful to one person may be annoying to others. So unless the site is selling music – drop the tune-playing function.
5) Sketchy Contact information. One thing that is most important to people that are "ready to buy" is the contact information. If someone is to make a purchase and cannot find adequate contact information in case the transaction "goes south" or the integrity of the product upon delivery is suspect, the sale can be negated right away. A web form and telephone number are an absolute minimum, but adding a mailing address also, will most often seal-the-deal.
There are many other negative aspects to design that should be avoided. IFM suggests making logical decisions on functionality and the visitor experience above all else. Consult with actual end-users for input on how certain functionality may be perceived, before paying for things that may be a turn-off for site visitors.
IFM Web Services offers WordPress development, Social Media Optimizing, Search Engine Optimization and standard Web Design services. Located in the Toronto area (GTA), IFM has helped business achieve an effective online presence and has helped clients as far away as Bermuda and Mexico. For more on Social Media, SEO or Web Design for businesses, visit IFM at http://www.ifm.ca.