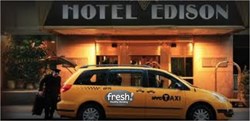 New York, NY (PRWEB) August 26, 2013
Hotel Edison NYC, a historic Art Deco hotel built in 1931 and located just steps from Times Square, recently installed two Fresh Healthy Vending machines for the convenience of its guests. The hotel in Midtown Manhattan near the historic theater district is a great location for visitors to use as a base while exploring the Big Apple. The snacks available from the new machines will allow them to get the sustenance they need without spending their vacation money on unhealthy fast food.
When people are traveling to a big city and touring all day, they need sustenance. The more affordable dining opportunities in Manhattan are the same fast food establishments that people are familiar with in their hometowns – and of course, tourists don't want to go to those places while in New York City.
Understandably, they would rather eat at restaurants that are exclusive to the city – places they have read about or seen on TV. Having access to Fresh Healthy Vending machines allows them to grab some healthy snacks in the morning to take along with them for the day. They can save their money for dining out at the places they really want to go to while visiting New York.
The machines feature options ranging from chocolate covered acai berries, to baked chips and natural sodas. The products are perfect for tucking into a bag and taking along on a city tour. For only a few dollars, hotel guests can get everything they need to keep them going all day long. It's an affordable snacking solution especially for families with children.
Michelle Valency, Fresh Healthy Vending's chief of location procurement was recently quoted. "We are finding our way in to such prestigious locations all over the country that are removing the junk in order to replace it with health food for their customers, students or employees. Fresh Healthy Vending machines are now found in hotels, schools, film academies, large corporations, transit terminals, student accommodation, hospitals, health clubs and so many more convenient locations"
For those interested in starting their own Fresh Healthy Vending franchise, they can contact the company to request a free machine and a consultation to discuss potential vending locations. Franchise opportunities are available throughout the United States.
About Fresh Healthy Vending
Fresh Healthy Vending is the largest healthy vending company in the world. Fresh Healthy Vending has over 200 franchise partners throughout the U.S., Canada, Puerto Rico and the Bahamas. Fresh Healthy Vending is dedicated to combating obesity by providing nutritious foods from healthy vending machines.
About FreshandHealthy.org
FreshandHealthy.org is the only dedicated resource available to locations around the world seeking a healthy vending program. The program offers financial grants and incentives to locations that qualify. Visit http://www.freshandhealthy.org to learn more.
For more information about Fresh Healthy Vending franchises, visit http://www.freshvending.com. To inquire about receiving a free Fresh Healthy Vending machine, visit http://www.freshandhealthy.org or call toll free 888-902-7558.