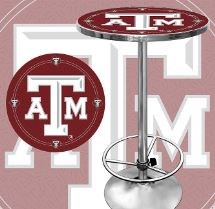 The Texas Poker Store has grown into a nationally recognized online supplier of poker-related products.
College Station, Texas (PRWEB) August 27, 2013
The Texas Poker Store, which carries a full line of poker supplies, also carries a line of NCAA Division I team mirrors on their website. As Jim Paris, owner and Chief Dealer puts it, "We've often been accused of being very pro-Texas A&M. Our followers have pointed out that our home page always features the mirror from Texas A&M University, along several other Aggie-related products, such as the Texas A&M Dart Board and a very cool portable bar and a great pub table adorned with the block Texas A&M logo.
"That makes perfect sense to us," says Paris. "After all, aside from being poker lovers, we live in College Station (Aggieland), my wife works for Texas A&M University, and, if you read our blog often, you know we're diehard fans of the Fightin' Texas Aggie football team. We've even run contests before each game asking our fans to predict the final score and then awarded prizes — like an NCAA mirror of their choice, a poker chip set or a set of Copag poker- sized cards — to the winners."
The fact that the Aggies had a remarkable 10-2 record in their first season in the Southeastern Conference (SEC) has made the brand extremely popular, and not just in College Station, Texas. With relentless national media coverage of Heisman Trophy winner Johnny Manziel, both on the field and off, there isn't a sports fan anywhere in the country who hasn't heard of Texas A&M. The Aggies will be facing Alabama, at Kyle Field, on September 14th, and it's been the most highly anticipated college football match-up in the country ever since the Aggies defeated the #1 Crimson Tide last season.
"Last year we went out on a limb and bet that the Aggies would be ready to play in the "Conference of Champions," Paris said. "Obviously, it was a good bet. This year, barring any last minute "real" evidence against JFF from the NCAA, we expect him to be not only playing in every game, but playing with a giant chip on his shoulder, which is what fuels him. We have so many offensive weapons that it's almost scary, and we're betting that Mark Snyder has some tricks up his sleeve that will bring together the defense, despite all the first-time players he has to work with."
"With all of that going on, the excitement is at an all-time high," Paris adds, "so we want to up the ante from last year."
Last year the Texas Poker Store ran a 10 percent discount on all Texas A&M-branded products during the football season.
"This year we decided to expand our offer to an across-the-board 10 percent discount on all of our poker products, including our poker chips, poker tables and any products that we have in stock. We still believe that Texas A&M licensed products will be in great demand because it's one of the hottest collegiate brands in the country right now," Paris states.
"But, just as Texas A&M has become a nationally relevant team, the Texas Poker Store has grown into a nationally recognized online supplier of poker-related products." Paris adds, "We want to keep that momentum growing, and there's nothing like discount prices to bring in new customers and keep our loyal customers happy."
To take advantage of the 10 percent discount, customers need simply to enter the code - homeofthe12thman - during the check out process to receive their discounted merchandise.
About Texas Poker Store
Located in College Station - Bryan, Texas, the Texas Poker Store is a fully stocked online poker store that offers 100 percent secured shopping and features hundreds of poker supplies. The Texas Poker Store was founded by Poker Lovers and Die Hard Players, Jim and Lynn Paris. We live in Texas, we play Texas Hold 'em and we welcome you to visit our store. You can find the Texas Poker Store at http://www.texaspokerstore.com , visit their blog at http://www.texaspokerstoreblog.com, and follow them on Twitter, Facebook and on Pinterest.
Jim Paris
Chief Dealer
Texas Poker Store
302 N. Bryan Street
Bryan, Texas 77840
1-866-213-1594