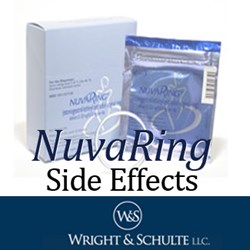 If you or someone you love suffered a blood clot, pulmonary embolism, deep vein thrombosis, heart attack, stroke or sudden death while using NuvaRing, visit yourlegalhelp.com, or call 1-800-399-0795
Columbus, OH (PRWEB) August 26, 2013
NuvaRing Lawsuit News: Wright & Schulte LLC, an experienced medical device injury law firm representing numerous women in #NuvaRing lawsuits, reports that the federal judge overseeing hundreds of #NuvaRing blood clot claims in U.S. District Court, Eastern District of Missouri, has ruled that the Plaintiff in the first bellwether trial will be able to pursue punitive damages. In an Opinion dated July 12, 2013, U.S. District Judge Rodney W. Sippel denied Organon USA's Motion for Summary Judgment on those claims, rejecting the company's assertion that that New Jersey, rather than Missouri, law applied to the claims. (In re NuvaRing Products Liability Litigation, MDL 1964)
Court documents indicate that 1,285 NuvaRing lawsuits are currently pending in the multidistrict litigation underway in the Eastern District of Missouri. All of the lawsuits filed in the proceeding claim that the birth control device releases high amounts of hormones that put users at risk for serious blood clots that have the potential to cause heart attacks, stroke, and even death. The first bellwether trial in the federal NuvaRing litigation is scheduled to begin on October 21, 2013, and could provide valuable clues as to how juries might rule in similar NuvaRing lawsuits.
NuvaRing is a once-a-month vaginal birth control ring which purportedly offers users the same efficacy as birth control pills or the patch in preventing pregnancy, but with more convenience. However, a U.S. Food & Drug Administration study published in 2011 found that NuvaRing raised the risk of blood clots, including deep vein thrombosis and pulmonary embolism, by 56% when compared to oral contraceptives. Last summer, two additional studies published in The New England Journal of Medicine and the British Medical Journal indicated that users of NuvaRing faced a higher risk of suffering dangerous blood clots, as well as heart attacks and strokes.
[fda.gov/downloads/Drugs/DrugSafety/UCM277384.pdf, FDA, October 2011]
[bmj.com/content/344/bmj.e2990, BMJ, May 2012]
[nejm.org/doi/full/10.1056/NEJMoa1111840?query=featured_home, NEJM, June 2012 ]
According to a regulatory filing issued by Organon USA's parent, Merck & Co., more than 1,500 NuvaRing blood clot lawsuits have been filed in courts around the country. In addition to the claims pending in the federal litigation, just over 200 NuvaRing lawsuits involving similar allegations have been filed in a consolidated proceeding underway in New Jersey Superior Court. (In re: NuvaRing Litigation, BER-L-3081-09) A number of other cases are also pending in various state courts, according to Merck's filing.
[sec.gov/Archives/edgar/data/310158/000031015813000004/mrk0630201310q.htm, Merck & Co., June 30, 2013]
About Wright & Schulte LLC
Wright & Schulte LLC, a leading personal injury firm, is dedicated to the belief that America's legal system should work for the people. Every day, the attorneys of Wright & Schulte LLC stand up for the rights of people who have been injured or wronged, and fight tirelessly to ensure that even the world's most powerful corporations take responsibility for their actions. If you're looking for a law firm that will guarantee the aggressive and personal representation you deserve, please do not hesitate to contact Wright & Schulte LLC today. Free case evaluations are available through yourlegalhelp.com, or call 1-800-399-0795.
Contact:
Wright & Schulte LLC
812 East National Road
Vandalia, Ohio 45377
1-800-399-0795
http://www.yourlegalhelp.com
#nuvaring-lawsuit