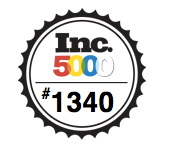 This is an honor for G3, and has been one of our goals since the company was formed.
Hasbrouck Heights, NJ, (PRWEB) August 26, 2013
G3 Communications announced today that it has been named to the 32nd annual Inc. 500|5000, an exclusive ranking of the nation's fastest-growing private companies. The list represents the most comprehensive look at the most important segment of the economy: America's independent entrepreneurs. The company ranked #41 among companies in New Jersey and number 1340 overall.
G3 Communications was launched in 2007 as a digital media company. The company publishes digital newsletters and has expanded into the marketing services and event production sectors. The company has grown more than 300% over the past three years, establishing expertise in the growing fields of demand generation and content marketing, which have become top priorities for B2B firms.
"This is an honor for G3, and has been one of our goals since the company was formed," says Andrew Gaffney, President of G3 Communications. "As a young company starting out in a tough economy, we are very proud of our staff and accomplishments. To be honored by a publication such as Inc. is validation for everyone's hard work and creativity."
G3 Communications is on pace to grow more than 70% again in 2013. The company has added more than 60 new clients over the past year.
G3 Communications and its divisions including Retail TouchPoints, Demand Gen Report, Channel Marketer Report, and Content4Demand continue to see substantial growth, based largely on their focus on using a mix of digital channels, formats and tactics to connect buyers and sellers.
Highlights of G3's success include:
*The successful launch of the company's first event, the B2B Content2Conversion Conference, which drew more than 220 registrants and is already on pace for further expansion in 2013.
*Increased web traffic across its brands by more than 70%, thanks in part to expanded menus of interactive content such as videos, motion graphics and podcasts.
"Now, more than ever, we depend on Inc. 500|5000 companies to spur innovation, provide jobs, and drive the economy forward. Growth companies, not large corporations, are where the action is," says Inc. Editor Eric Schurenberg.
G3 Communications was founded in 2007 to provide customized content solutions for business-focused clients. Since its formation, G3 has grown its revenues each year by focusing on providing customized content and lead generation programs for BtoB marketers, which show demonstrable ROI and support marketing and sales initiatives. The company's team of content professionals provides expertise in creating call-to-action and thought leadership content.
Please visit http://www.gthreecom.com for more information.
Methodology
The 2013 Inc. 500|5000 is ranked according to percentage revenue growth when comparing 2009 to 2012. To qualify, companies must have been founded and generating revenue by March 31, 2009. They had to be U.S.-based, privately held, for profit, and independent—not subsidiaries or divisions of other companies—as of December 31, 2012. (Since then, a number of companies on the list have gone public or been acquired.) The minimum revenue required for 2009 is $100,000; the minimum for 2012 is $2 million. As always, Inc. reserves the right to decline applicants for subjective reasons. Companies on the Inc. 500 are featured in Inc.'s September issue. They represent the top tier of the Inc. 5000, which can be found at http://www.inc.com/inc5000/list/.
About Inc.
Founded in 1979 and acquired in 2005 by Mansueto Ventures, Inc. is the only major brand dedicated exclusively to owners and managers of growing private companies, with the aim to deliver real solutions for today's innovative company builders. Total monthly audience reach for the brand has grown significantly from 2,000,000 in 2010 to over 6,000,000 today. For more information, visit http://www.inc.com/.