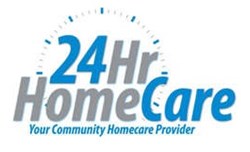 Visitors to the site can learn more about 24HR HomeCare, an accredited member of the Better Business Bureau.
Rossmoor, Ca (PRWEB) August 28, 2013
When hiring a caregiver to assist a loved one in day-to-day activities, there are a number of factors to be considered, and 24HR HomeCare has now launched a website that can help with the decision of who to retain for this important job.
The website lists the valuable qualities that a reliable caregiver needs to possess in order to properly and competently take care of an elderly individual who requires assistance with daily activities and tasks. Loved ones want to do as much as possible but will have time restrictions and other responsibilities. By hiring a dependable caregiver, a loved one in need of assistance will have more independence and will be able to remain at home rather than needing to take up residence at an assisted living facility.
Since the website spells out the qualities that a caregiver should have, it helps family members to make wiser decisions about the individuals who will be hired to take care of loved ones. It is easier to retain trustworthy and competent caregivers when having a good idea what qualifications are required to do a good job.
Visitors to the site can learn more about 24HR HomeCare, an accredited member of the Better Business Bureau. It is also possible to contact the agency through an email regarding any further information that might be needed. Questions can be posed in this way, and emails that are sent will receive a prompt response within one hour.
A competent caregiver provides elderly loved ones with the ability to remain at home and receive the assistance necessary to carry out various tasks, attend to daily activities, take medications properly and travel to and from doctors' appointments. It can be quite uplifting to have the opportunity to retain as much independence as possible, and family members cannot always provide the care required when there are other obligations involved. This is when a valued caregiver can take over, providing quality care that can be of great service to all family members, not just the individual who requires assistance.
Caregivers at 24HR HomeCare are available for occasions when family members need some time off from caregiving or have other obligations. Caregiving services can be provided on a 24-hour basis, which can be especially helpful when assistance is required at odd times of the day or night. Residents of the Rossmoor area can check out the website to learn more.