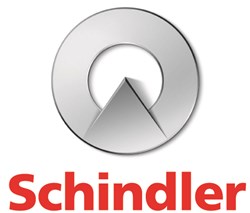 Morristown, NJ (PRWEB) August 26, 2013
For the third consecutive year, Schindler Holding has been ranked as one of the 100 most innovative companies in the world by the leading American business magazine, Forbes. Schindler joins firms such as Amazon, Apple, and Google on the prestigious list, which ranks companies according to a metric called the "Innovation Premium".
Forbes uses this metric to measure the premium the stock market has placed on the value of a company based on expectations of future innovations including new products, services and markets that will drive the business into the future. The Forbes ranking demonstrates that innovation is one of the key factors to Schindler's success.
"Making this prestigious list for three consecutive years is an honor and is reflective of Schindler's dedication to developing innovative and sustainable urban mobility solutions," said Greg Ergenbright, president, Schindler Elevator Corporation. "We are committed to continuously setting new standards in the elevator industry."
Track Record of Innovation
Particularly in the area of sustainability and energy efficiency, Schindler has a long tradition of developing technologies that safely transport more people with less energy than ever before. A few strong examples of these industry-leading innovations include:

Schindler Solar Elevator: the world's most advanced elevator that can be powered exclusively by sunlight was introduced in Europe this year.
Schindler's PORT Technology, the industry-leading destination-dispatch elevator system, features an intuitive touch-screen communication system that is interconnected throughout a building, identifying and guiding passengers on the fastest route to their destination
Schindler 3300 machine room-less elevator (MRL), the first MRL elevator in the industry specifically designed for the low-rise commercial and multi-unit residential market, offering performance up to 60% more energy efficient than hydraulic elevators and a 5% larger cab, creating more space and comfort
Schindler Power Factor 1 drives regenerate energy back into a building's energy system, AC and permanent magnet gearless machines reduce energy consumption and Soft Start packages for hydraulic elevators provide environmental and safety benefits such as motor overload protection, reduced energy consumption, increased elevator reliability and the elimination of audible noise pollution.
In the field of maintenance, Schindler has created an innovative service delivery process, which improves reliability and efficiency by integrating maintenance methods and scheduling technologies.
Solar Impulse Partnership
Schindler has partnered with Solar Impulse, the revolutionary zero-fuel airplane aiming to fly around the world powered exclusively by solar energy. Solar Impulse completed its historic Across America mission in July 2013. The partnership puts Schindler at the forefront of worldwide efforts to develop future technologies facilitating clean and sustainable mobility.
This partnership also gives Schindler access to engineers, researchers and technical experts from leading technology firms, and the ability to apply the valuable insights gained from this cooperation to its own future technological developments. As demands on mobility grow and fuel resources dwindle and become more expensive, mankind's future lies in using clean, sustainable energy from renewable sources.
About Schindler Elevator Corporation
Schindler Elevator Corporation is the North American operation of the Switzerland-based Schindler Group, a leading global mobility provider with approximately 44,000 employees operating in more than 100 countries. Schindler supports sustainable urban development with safe, reliable and ecologically sound mobility solutions and its equipment moves one billion people every day all over the world. Schindler was named one of Forbes Magazine's 100 Most Innovative Companies from 2011-2013, and two of the company's products received the 2011 Architectural Products' Product Innovation Award. For additional information about Schindler Elevator Corporation, visit the company's Web site at http://www.us.schindler.com.