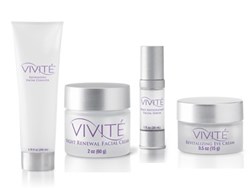 (PRWEB) August 26, 2013
Starting Monday August 26th eVivite.com, a leading online provider of authentic VIVITE products, will be celebrating their Customer Appreciation Week. It's a way for eVivite.com to give back to all those that have supported the business since it launched in 2011.
eVivite.com was created to give customers a more convenient and affordable way to buy VIVITE products without having to visit a physician. Through their streamlined online ordering process eVivite.com is able to offer customers not only an easier way to purchase VIVITE but also deep discounts of 30-50% off the retail price.
CUSTOMER APPRECIATION WEEK SPECIALS
Between August 26th and September 1st eVivite.com will have limited time only specials in addition to their regular daily deals. Customer Appreciation Week specials include:
All customers will receive 10% off every product in the online store.
eVivite.com will also be offering FREE VITITE Travel Kits to customers that spend $100 or more during the week. The kits include the Daily Antioxidant Facial Serum, the Night Renewal Facial Cream, the Revitalizing Eye Cream and the Exfoliating Facial Cleanser.
EVERYDAY EVIVITE.COM SPECIALS
Brilliant Distinctions Rewards Program – eVivite.com is a Brilliant Distinctions participant, which means any shopper who is enrolled in the program can receive points, redeemable for cash savings, on their eVivite.com purchases.
To take advantage of the special discounts being offered during the Customer Appreciation Week visit http://www.evivite.com between August 26th and September 1st.
About EVIVITÉ®.com
eVivite.com was created to provide consumers with a more affordable and efficient way to purchase authentic VIVITE products. The company has created a process that eliminates the unnecessary logistical and storage costs, allowing customers to purchase directly from the warehouse at prices 30%-50% below retail. With eVivite.com, consumers no longer have to visit a doctor's office in order to obtain their VIVITE products.
eVivite.com is a sister site to LatisseDoctor.com, a site which has been successfully selling Latisse (another Allergan product) since 2011. Both eVivite.com and LatisseDoctor.com are subsidiaries of Allied Medical & Diagnostic Services, LLC.