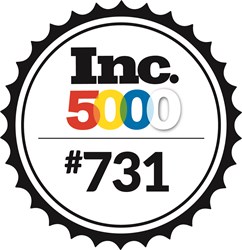 (PRWEB) August 28, 2013
The SMS Masterminds, a national full-service mobile and loyalty marketing agency, is one of six San Luis Obispo companies ranked on the 2013 Inc. 500|5000 list of fastest growing companies in America, with an overall ranking at No. 731 as well as No. 66 on the Top Software Companies on the Inc. 500|5000.
The Inc. rankings are based on companies' revenue growth between 2009 and 2012. Over the three-year period, SMS Masterminds grew by 629 percent, increasing revenue from $325,364 to $2.4 million. This was the Masterminds' first year eligible for the list.
The Masterminds provide small to medium sized businesses mobile and loyalty marketing services, licensing their technology to professional marketers and organizations across the country. Their flagship loyalty rewards kiosk and automated text engagement engine are just two of the unique services they provide local businesses.
"The keys to success are easy — we focus on making the people we do business with more money. If they make money, we make money, we all win," says Masterminds CEO Alex Minicucci. "It feels great to help small businesses thrive using our cutting-edge technology and world-class service."
Other San Luis Obispo companies on the list are Mindbody (#1360), iFixit (#1735), TekTegrity (#2131), Meathead Movers (#2605) and Shopatron (#3402).
Minicucci added, "San Luis Obispo is an underestimated little town with a ton of great talent and ideas. I'm honored to be listed alongside these other great SLO companies."
The Inc. list only includes companies that are privately held, for profit and independent — not subsidiaries or divisions of other companies.
For more information about SMS Masterminds services or accomplishments, email Nicole(at)smsmasterminds(dot)com, visit SMSMasterminds.com or call (877) 541-8398.
# # #
About SMS Masterminds:
SMS Masterminds is a technology company founded in 2009 by serial entrepreneur Alex Minicucci that is changing the way mobile marketing services are used by small and medium sized businesses. This new integrated, data-driven approach combines the core functions of SMS/text messaging, mobile web and email helping businesses create stronger relationships with their customers through the use of proprietary social and mobile marketing tools.