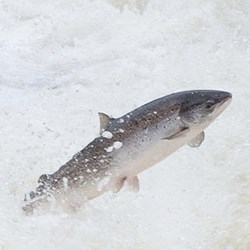 St. Andrews, NB (PRWEB) August 26, 2013
The fact that the King of Fish inspires many people is no surprise, and this is reinforced by the number of expected attendees at numerous fund raisers in the United States and Canada taking place this fall. From September to November, the Atlantic Salmon Federation (ASF), an international charitable organization, will raise funds for Atlantic salmon conservation at dinners and receptions in Chicago, New York, Montreal, Ottawa, St. Johns Newfoundland and Saint John New Brunswick, with the help of live and silent auctions of treasured items that appeal to anglers and non-anglers alike. See http://asf.ca/events.html .
Wild Atlantic salmon are listed as endangered in Maine and their southern Canadian range and cannot be fished. The good news is that there are still many more northern rivers in Canada that draw anglers from the United States, Canada and overseas to fly fish for this amazing fish. Known historically as "the leaper" because of its acrobatic ability to jump up to 14 feet in the air, people can still meet this creature face-to-face, whether on the shores of a wild salmon river or in interpretive centres scattered throughout eastern Canada and northeastern United States. Many North Americans recognize the importance of these fish to the environment as they make their challenging migrations from natal streams to high seas feeding grounds and back again to their birthplaces to spawn.
Where you do NOT find wild Atlantic salmon is in grocery stores and restaurants. The vulnerable health of wild Atlantic salmon populations brought an end to the commercial fishery for them in the United States in the mid twentieth century and in Canada, by the twenty-first century. Instead, grocery stores and restaurants offer farmed Atlantic salmon for sale.
Many sustainable seafood advisory groups that are raising awareness about the importance of buying seafood from sustainable sources actually advise consumers to avoid farmed Atlantic salmon. One of the reasons for this is the threat of genetic and environmental impacts of salmon that are grown in open net pen cages in the sea. http://asf.ca/aquaculture-in-need-of-change.html . For more than two decades, ASF has studied the interactions between wild and farmed salmon that escape sea cages and enter wild salmon rivers. Such a river is the Magaguadavic in southwest New Brunswick, the centre of the salmon farming industry in the Bay of Fundy. The Magaguadavic is the North American index river for researching what happens when farmed salmon escape the confines of their nets in the ocean, because of storm and predator damage, or leak from their freshwater hatcheries, and enter wild salmon rivers.
Scientific studies have documented that farmed escapees actually can survive in these rivers, competing with wild salmon for food and habitat and can interbreed with wild stocks, causing fitness reduction in wild salmon as a result of the interbreeding http://www.ncbi.nlm.nih.gov/pmc/articles/PMC3131974/ . In other words, the interbreeding ruins the ability of wild Atlantic salmon to jump waterfalls and make their amazing migrations. The river's wild salmon run will, over time, die out. The run to the Magaguadavic has been reduced to only one or two wild salmon annually, despite comprehensive restoration attempts, from an average run of 800 in the 1980s before the salmon farming industry gained its strong foothold.
Consumers who wish to eat products that are grown in an environmentally-sustainable way can check out the websites that provide this advice, such as Monterey Bay Aquarium Seafood Watch http://www.montereybayaquarium.org/cr/cr_seafoodwatch/sfw_recommendations.aspx , Sea Choice http://www.seachoice.org/ and Vancouver Aquarium Ocean http://www.oceanwise.ca/ .
For more information, please contact
Sue Scott, VP, Communications, Atlantic Salmon Federation
ph: 506-529-1077
email: sscott(at)asf(dot)ca