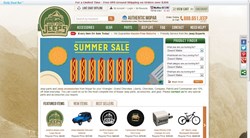 (PRWEB) August 27, 2013
JustForJeeps.com unveiled a redesign to its website on Monday in an effort to maximize the efficiency and effectiveness of a customers' visit.
The Jeep site is now easier to navigate and includes even more Jeep parts and Jeep accessories.
"Quote about JustForJeeps.com's new site. Something else about what the site represents for the Jeeping community"
Perhaps the most intriguing new aspect to the revamped JustForJeeps.com is the homepage's 'product finder.' Visitors can now search for and filter products by year, model, category, and type. For those who aren't quite sure what they're looking for or what they need, JustForJeeps.com has a friendly staff of Jeep experts standing by to help.
The new layout and design incorporates JustForJeeps.com's new logo into the look and feel of the site. With its new Jeep attitude JustForJeeps.com is ready for all of its visitors to enjoy the new site as well as interact via Facebook (facebook.com/JustForJeeps) and Twitter (twitter.com/justforjeeps).
To get your hands on new Jeep parts and Jeep accessories, or for more information, check out the updated website at http://www.justforjeeps.com or call 888.651.JEEP.