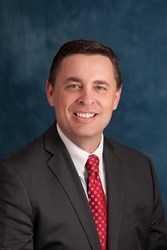 Phoenix, Arizona (PRWEB) August 27, 2013
Attorney Travis Williams of The Frutkin Law Firm, PLC was named an adjunct professor at Chandler-Gilbert Community College for the upcoming fall semester. He will be a part of the school's business department, teaching the course "Legal, Ethical, and Regulatory Issues in Business."
As an Arizona native and resident of Gilbert, Williams is excited to continue to service the community. Williams brings nearly 13 years of business law experience to the classroom. Currently, he is a Senior Counsel Attorney at The Frutkin Law Firm, working with institutional lenders, private lenders, small to medium-sized businesses, and real estate developers. His practice areas include real estate and business transactions, lender transactions and business formation.
Williams graduated from the Sandra Day O'Connor College of Law in 2000 after he earned his Bachelor of Arts degree from Brigham Young University in 1997. He has memberships and affiliations with the Arizona Supreme Court, U.S. District Court of Arizona, and Bankruptcy and Real Estate Sections of the State Bar of Arizona.
For more information on Attorney Williams or The Frutkin Law Firm, PLC, visit http://www.frutkinlaw.com. With offices in Phoenix and Scottsdale, The Frutkin Law Firm consists of ten attorneys with decades of experience in the core areas of civil litigation, business law, bankruptcy, and estate and tax planning.
About Frutkin Law Firm
The Frutkin Law Firm, PLC was founded in 2007 by attorney Jonathan Frutkin with the goal of providing exceptional legal representation to clients throughout Arizona in business and corporate law and related areas, ranging from taxation and asset protection to estate planning. The Frutkin Law Firm helps businesses, individuals, and families in Phoenix and throughout Arizona with their corporate and business law, bankruptcy, taxation, asset protection, wills, trusts, and estates, and litigation needs. The firm has locations in downtown Phoenix and Scottsdale. For more information, visit http://www.frutkinlaw.com.