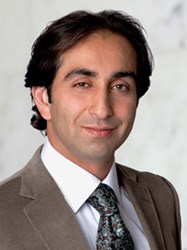 Salivary gland stones can be uncomfortable and even painful, often negatively impacting your life.
Beverly Hills, CA (PRWEB) August 29, 2013
Babak Larian, MD, FACS, is the medical director of the Salivary Stone Center of Excellence in Los Angeles, which is a department of La Peer Health Systems. A world-renowned salivary gland surgeon, Dr. Larian utilizes the most advanced techniques for performing minimally invasive procedures. Dr. Larian and his team of skilled ENT surgeons specialize in the treatment of salivary gland stones and offer cutting-edge outpatient procedures.
"Salivary gland stones can be uncomfortable and even painful, often negatively impacting your life," said Dr. Larian. "Our team's goal is to treat those with severe infections to stop suffering and help improve patients' quality of life."
Some of these exciting, state-of-the-art procedures include sialendoscopy, which involves the use of an endoscope to remove the salivary gland stone and salivary gland removal, which is the complete removal of the gland for more severe cases. Because the surgeons use an endoscope during sialendoscopy, all or part of the salivary gland is spared, and patients most likely will not need to undergo additional salivary gland surgery. Additionally, this minimally invasive technique leaves no scarring, minimizes recovery time and allows patients to go home the same day as their procedures.
"We are learning more and more about salivary gland stone removal techniques every day, and continue to perfect our craft," said Dr. Larian. "Now patients can find relief from their chronic salivary stones, without having to factor in lengthy and painful recoveries."
Babak Larian, MD, FACS, is a world-renowned salivary gland surgeon in Los Angeles who specializes in minimally invasive treatments that provide patients with relief and an improved quality of life in very little time. Dr. Larian is a board-certified otolaryngologist with unique knowledge in various head and neck conditions.
A leader in his field, Dr. Larian trains other surgeons, presents at national conferences, and performs clinical research. The nature of his practice keeps him at the cutting edge of medical technology, allowing him to be at the leading edge of treatment options that result in improved outcome and less discomfort to his patients. Dr. Larian is involved with designing equipment for minimally invasive thyroid and parathyroid surgery. Expertise in performing these types of surgery is of utmost importance to assure improved outcomes, and a significantly lower risk of complications.
La Peer Health Systems is an outpatient surgery center in Beverly Hills, founded by doctors and focused on providing excellent patient care alongside the most cutting-edge medical treatments available. With 50 world-renowned physicians in 14 specialties, comprehensive medical treatment is offered that takes patients from consultation to diagnosis, treatment, surgery, and ultimately aftercare. The 14 medical departments include orthopedics & sports medicine, gastroenterology, head & neck surgery, colorectal & general surgery, podiatry, ophthalmology, pain management, plastics & reconstructive surgery, gynecology, spine surgery, interventional cardiology, bariatric surgery, thoracic surgery, and anesthesiology. Unlike large hospitals, La Peer's unique structure offers extremely personal care in a safe and controlled environment.
To learn more about La Peer Health Systems, visit http://www.lapeerhealth.com.