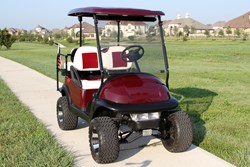 Houston, TX (PRWEB) August 27, 2013
According to the Texas DMV, golf carts are categorized as slow-moving vehicles, alongside Low-Speed Vehicles (LSV's) and Neighborhood Electric Vehicles (NEV's). All of these are regulated by both state and federal laws. These vehicles typically are defined as:

No less than 3 wheels.
Normal maximum speed of 15-25 mph.
Manufactured primarily for use on golf courses.
The popularity of these vehicles is great since the vehicles are convenient and fuel efficient, but safety should be of concern. Texas defensive driving students often ask what the behavior should be when around these slower motorists. In golf cart communities one should always be on the lookout for these slower moving vehicles but remember that these vehicles are also very maneuverable and they can move in and out of the road very easily just like motorcycles.
Golf carts are also allowed to be on certain public roads if permitted by local government in which the owner resides and they must also follow strict rules to drive on certain roads. The general accepted situations for legally driving golf carts on public roads according to Texas State Law are as follows:

Must possess a slow-moving vehicle emblem.
On public or private beaches.
In neighborhoods with a standardized set of restrictive policies in place.
During the daytime and no farther than two miles from where the owner generally parks the golf cart.
For riding to or from a golf course.
To cross intersections, including a road or street than has a posted speed limit of more than 35 mph.
Manufactured primarily for use on golf courses.
Although these are generally accepted situations in which golf carts may legally be driven, both a city and/or a county is allowed to pass a local ordinance prohibiting this behavior completely in the interest of public safety, or allowing it to be done on more roads. In the case of the ordinance allowing use on more roads, the road must be within the city's boundaries with a speed limit of 35 mph or less. In these particular situations, the golf cart must be insured and have the following golf cart safety features equipment:

Headlamps
Tail lamps
Reflectors
Parking brake
Mirrors
Slow-moving vehicle emblem
Again, the general rules for driving a golf cart on a public road is that the maximum speed limit on the road being driven on must not exceed 35 mph, as well as going through an underpass with a maximum speed limit of 45 mph. Comedy Driving would like to remind everyone that although these are the general rules, it would be safer to research the laws within your particular city or county in which you plan to ride the golf cart in. It is always a good idea to check with your local city to make sure that this behavior is not prohibited, and to see if they have any particular laws that need to be adhered to as well.