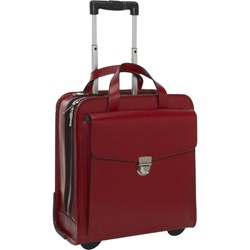 Time demands on women have never been greater.
Los Angeles, CA (PRWEB) August 29, 2013
For today's high activity gal, Jack Georges rolling briefcases for women are especially designed to meet both business and leisure purposes. So says the owner and CEO of rising luggage seller, GotBriefcases.com. This growing online luggage retailer is quickly becoming the destination for those looking for carriers of all shapes and varieties.
GotBriefcases.com has gone out of its way to make sure they meet the needs of today's busy working women. "At GotBriefcases.com, we know that the time demands on women have never been greater," says the CEO, Vahram Tovmasyan. "In today's world, women are expected to both be full-time moms and full-time executives and they need carrying cases that help them manage both these important tasks."
That is why GotBriefcases.com has devoted a significant proportion of their services to helping women find just the right vertical briefcases for their needs. The Jack Georges Milano Rolling Briefcases for Women is just one example of how GotBriefcases.com's exhaustive collection does just that. The Jack Georges rolling briefcases for women not only come in a variety of colors, from demure blacks and browns to eye-catching oranges and greens, but also, arrayed with wheels and ergonomic telescopic handles, they are ideal for women on the go.
"Whether it is an international sales position that takes her to crowded terminals across the country and across the world," says Tovmasyan, "Or just the everyday commute into work—no briefcase is better suited to being on the go." And indeed, that is what one finds with this remarkable briefcase. The Jack Georges is not only one of the most maneuverable briefcases on the market, but also one of the most stylish with its classic cuts and handcrafted tailoring.
The Jack Georges briefcase is also one of the most durable and protective cases carried by the retailer. The briefcase is both scratch resistant and has an especially padded inner lining to help keep laptops safe from the inevitable jostling they receive when in transit from destination to destination.
Given the increasing numbers of Cheryl Sandbergs and Marissa Mayers in the work world of today, these bags are sure to only grow in popularity. And when they do, GotBriefcase.com will be there to help meet the growing demand.
Who ever said it's a man's world?
GotBriefcases.com is an up and coming online provider of fine luggage and work cases. Geared to the tastes and needs of the 21st Century traveler and business person, GotBriefcases.com's wide array of briefcases, laptop bags, travel cases, and messenger bags are perfect for the modern consumer regardless of price point or stylistic needs. At GotBriefcases.com costumers find the best briefcase designers and the highest quality bags. Put simply, GotBriefcases.com is the destination for briefcase or carry-ons. When it comes to finding the right case, GotBriefcases.com has it in the bag.
Those who would like to find out more about these amazing briefcases may visit the GotBriefcases website here: http://www.gotbriefcases.com.