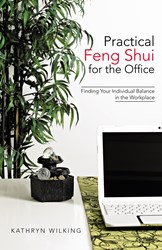 "I want to share these techniques with anyone who is seeking success in their lives, because, yes, you can control your work environment," states Wilking. "The techniques presented here can benefit anyone in any work setting. "
Vancouver, B.C. (PRWEB) August 28, 2013
According to a 2013 study from Good Think Inc., boosting office moral can increase productivity by 30 percent; but can optimism be improved through changes in the work environment? Author Kathryn Wilking believes it can be as easy as re-arranging your desk.
Aiming to help the mainstream-working world, Practical Feng Shui for the Office is a simple guide for those looking to boost productivity and success in their career. Showcasing the ease in achieving success, Wilking shares a fresh approach to setting up your office, team building and working harmoniously in a work setting.
"When someone asks me 'Do I need feng shui?' I tell them, even if you are very satisfied in your work, simple changes can fine-tune your environment and reinforce the positives," says Wilking.
Making Fung Shui lessons simple to execute for those unfamiliar with the ancient technique, Wilking illustrates how understanding the differences in personality and style are key to a successful eight-hour day. Using her expertise and a gold level certification in Fung Shui, this simple manual explains both the small and large things one can do around the office.
"I want to share these techniques with anyone who is seeking success in their lives, because, yes, you can control your work environment," states Wilking. "The techniques presented here can benefit anyone in any work setting. "
Practical Feng Shui for the Office: Finding your personal balance in the workplace
By Kathryn Wilking
ISBN: 978-1-4759-8818-5
Price: (SC) $14.99
Available at http://www.amazon.com, http://www.barnesandnoble.com and http://www.iuniverse.com.
About the author:
Kathryn Wilking has been involved with interior design and the home improvement industry for more than 25 years, and is a specialist in paints and coatings. She is also a certified gold level Feng Shui consultant and real estate stager. She first graduated with a diploma in communications and labour management from Niagara College, followed by certificates in international trade and women in technical trades. As a project consultant, Kathryn has opened, moved and renovated retail stores and offices, and also developed a technical catalogue for kitchen design. A transplant from Niagara in 2006, Kathryn now resides with her husband in the Lower Mainland of B.C. in Canada.
###