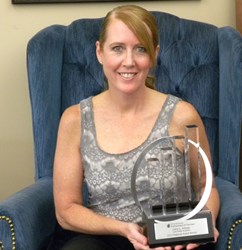 North Ridgeville, OH (PRWEB) August 28, 2013
On June 27 Lake Ridge Academy president, Carol Klimas, was awarded the prestigious Ernst & Young Entrepreneur of the Year® title in the Education / Non-Profit category. According to C. Lee Thomas and Whitt Butler, of Ernst & Young, "Since 1986, Ernst & Young has celebrated the entrepreneurial spirit of men and women who have followed their dreams, changing the lives of countless others by building their businesses and giving back to their communities. More than 25 years ago, Ernst & Young founded the Entrepreneur of the Year program to recognize these dynamic leaders and to build an influential community of innovative entrepreneurs."
The finalists were selected from over 90 nominations by a panel of independent judges. In general, the judges look for the following criteria: passion, vision, achievement, and social responsibility. Honorees are also recognized as market leaders who transform industries and contribute to the vibrancy of communities. Carol's 20 years of experience in organizational management and leadership in both private and public sectors have been crucial to the growth and success of Lake Ridge Academy.
Since her arrival in 2007, Lake Ridge Academy has seen the highest new student acquisition in the history of the school, and for the last four years, Lake Ridge Academy has been the fastest growing independent school in the state of Ohio. Mr. Robert Smith, Chair of the Lake Ridge Academy Board of Directors states, "We are so proud of this achievement for Carol and for our School. Through her dedication she has gained the support of faculty, administration and the Board. The entire Lake Ridge Academy community wishes her good luck as she advances to the National competition in November."
About Lake Ridge Academy
Lake Ridge Academy is an independent, nonsectarian day school offering co-educational classes from kindergarten through grade 12.
Founded in 1963, Lake Ridge Academy is committed to providing small class sizes and maintains an 8:1 student ratio. Located on a beautiful 88 acre campus, we are the only independent college preparatory school on Cleveland's west side.
Our mission is to send into a changing world confident young people of integrity who think critically and creatively while embracing the joy of lifelong learning.